Turkey | History, Capital, Language, Flag, Facts & Geography of Turkey
Information about Turkey:
| | |
| --- | --- |
| Capital | Ankara |
| Population | 85,899,958 (Source: 2023 worldometer) |
| Major Cities | Ankara (capital), Istanbul, İzmir, Bursa, Antalya |
| Borders | Armenia, Iran, and Azerbaijan (the exclave of Nakhchivan) in the east, Georgia in the northeast, Bulgaria and Greece in the northwest, and Iraq and Syria in the southeast |
| Gross Domestic Product (GDP) | $905,988,000,000 (2022 worldometer) |
| Currency | Turkish lira (YTL); old Turkish lira (TRL) before 1 January 2005 |
Flag of Turkey: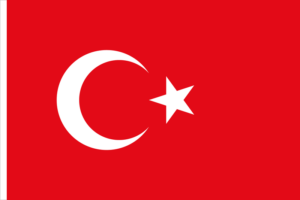 Flag description: The Turkish flag was introduced in 1844. A white crescent and a five-pointed white star are on a crimson background (field). The Sun and Moon are represented by the crescent. The ancient Turks' religious practices are symbolized by the Sun, Moon, and star. The Islamic religion also uses the star and crescent as symbols. Turkish flags have featured the color red prominently for hundreds of years.
Turkey Economy Key Industries:
Turkey Major Industries: textiles, food processing, autos, electronics, mining (coal, chromite, copper, boron), steel, petroleum, construction, lumber, paper

Turkey Agricultural Products: tobacco, cotton, grain, olives, sugar beets, pulse, citrus; livestock
Turkey Natural Resources: coal, iron ore, copper, chromium, antimony, mercury, gold, barite, borate, celestite (strontium), emery, feldspar, limestone, magnesite, marble, perlite, pumice, pyrites (sulfur), clay, arable land, hydropower
Turkey Major Exports: apparel, foodstuffs, textiles, metal manufactures, transport equipment
Turkey Major Imports: machinery, chemicals, semi-finished goods, fuels, transport equipment
The Geography of Turkey:
Total Size of Turkey: 783,356 km2 (source: wikipedia)
Geographical Low Point of Turkey: Mediterranean Sea 0 m

Geographical High Point of Turkey: Mount Ararat 5,166 m
Climate of Turkey: Temperate; hot, dry summers with mild, wet winters; harsher in interior

General Terrain of Turkey: high central plateau (Anatolia); narrow coastal plain; several mountain ranges
World Region or Continent of Turkey: Middle East

Geographical Coordinates: 39 00 N, 35 00 E
Major Landforms of Turkey: Thrace (European portion of Turkey), Anatolia (Asian portion of Turkey), Pontic Mountains, Taurus Mountains, Mount Ararat, Gallipoli peninsula
Major Bodies of Water: Kizilirmak River, Kura River,Tigris River, Euphrates River, Lake Van, Lake Tuz, Lake Beysehir, Aegean Sea, Black Sea, Mediterranean Sea
Famous Places of Turkey: 
Hagia Sophia,
Fairy Chimneys in Cappadocia,
Pamukkale,
Bodrum Castle,
Mount Nemrut,
Blue Mosque,
Ruins of Ephesus,
Theatre of Aspendos,
Grand Bazaar in Istanbul,
Topkapi Palace,
Sultan Ahmed Mosqueg,
the Golden Horn
The People of  Turkey & Culture
Turkey Government Type: republican parliamentary democracy
Turkey Nationality: Turk(s)
Turkey National Holiday: Republic Day, 29 October (1923)
Other Holidays of Turkey: 
New Years' Day (January 1),
National Sovereignty and Children's Day (April 23),
Labor and Solidarity Day (May 1),
Commemoration of Ataturk and Youth Day (May 19),
Republic Day (October 29),
Ramadan Feast, Sacrifice Feast
Turkey Independence: 29 October 1923 (successor state to the Ottoman Empire)
Turkey National Symbol:
Animal – Grey wolf

Bird – Redwing

Flower – Tulip

Motto – Sovereignty rests unconditionally with the nation
Turkey National Anthem or Song: Istiklal Marsi (Independence March)
Turkey Languages Spoken: Turkish (official), Kurdish, Dimli (or Zaza), Azeri, Kabardian
Turkey Religions: Muslim 99.8% (mostly Sunni), other 0.2% (mostly Christians and Jews)

Interesting Facts about Turkey:
Turkish people enjoy drinking tea.
There are almost 80,000 mosques in Turkey.
In Turkey's Antioch, the first Christian church was established.
The official name of the country is Republic of Turkey.
The Golden Horn was once crossed by a bridge built by Leonardo da Vinci.
Turkey is the source of 75% of the world's hazelnut exports.
More than 30 languages are spoken in Turkey.
"Muvaffakiyetsizleştiricileştiriveremeyebileceklerimizdenmişsinizcesine" is the longest word in Turkish.
It is illegal to wear a fez in Turkey.
Istanbul may be found in both Asia and Europe.
Turkey's Tünel funicular is the continent's oldest operational underground railway.
Turkey's 1,175 kilometers of Black Sea shoreline.
Istanbul's Grand Bazaar has 64 lanes and 4,000 shops. Up to 400,000 people visit the Grand Bazaar each day, one of the largest and oldest markets in the world. It's often recognized to as one of the oldest retail malls in the world.
The oldest church ever built by mankind, St. Peter's Church, is in Turkey's Antioch (Antakya).
The first church dedicated to the Virgin Mary is located in Ephesus.
Istanbul's Sirkeci Train Station is a historically significant building. From 1883 to 1977, this location served as the last station for the Simplon-Orient Express, also known as the "king of trains and train of kings," as it traveled between Paris and Constantinople. Agatha Christie was a traveler on this illustrious train.
Around 640 BC, the Lydian king Croesus introduced electrum coins to Sardis in the Aegean region of Turkey.
Turkey is home to one of the three most well-known and distinctive traditional cuisines in the world.
Over 9,000 distinct flower species exist in Turkey, of which 3,000 are native. For instance, Europe is home to 11,500 species. This displays the variety of the flora and fauna of Anatolia.
Early Christians seeking safety from Roman persecution found it in Cappadocia.
Greece, Bulgaria, Georgia, Armenia, Azerbaijan, Iran, Iraq, and Syria are all neighbors to Turkey on land.