Kuwait | History, Capital, Language, Flag, Facts & Geography of Kuwait
History of Kuwait:
The nearby island of Failaka was established by the Ancient Greeks in the 4th century BC early in Kuwait's history. It was given the name Ikaros and developed as the region's main commerce hub. Later, the Sassanid Empire and then the Parthian Empire would rule the region. In the second century, the region was referred to as Hajar.
The first inhabitants of Kuwait today arrived in the country in the 16th century. They founded the state of Kuwait in 1756 and came from the Nejd tribe. Sabah I bin Jaber was Kuwait's first emir. His descendants continue to reign Kuwait as the al-Sabah royal family.
Kuwait and Britain signed a contract in 1899 stipulating that Kuwait would be protected by Britain. Up until its independence in 1961, Kuwait remained under British protection.
Iraq invaded Kuwait in August 1990. When the United States led a United Nations army to drive Iraq out of Kuwait, this ignited the First Gulf War.
Information about Kuwait:
| | |
| --- | --- |
| Capital | Kuwait |
| Population | 4,310,108 (Source: 2023 worldometer) |
| Major Cities | Kuwait (capital), Al Ahmadi, Ḩawallī, Şabāḩ as Sālim, Al Farwānīyah, Al Faḩāḩīl, Kuwait City, Ar Riqqah, Al Manqaf, Al Jahra |
| Borders | West and north by Iraq, to the east by the Persian Gulf, and to the south by Saudi Arabia |
| Gross Domestic Product (GDP) | $184,558,000,000 (2022 worldometer) |
| Currency | Kuwaiti dinar (KD) |
Flag of Kuwait: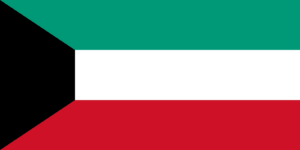 Kuwait Economy Key Industries:
Kuwait Major Industries: petroleum, petrochemicals, cement, shipbuilding and repair, desalination, food processing, construction materials
Kuwait Agricultural Products: practically no crops; fish
Kuwait Natural Resources: petroleum, fish, shrimp, natural gas
Kuwait Major Exports: oil and refined products, fertilizers
Kuwait Major Imports: food, construction materials, vehicles and parts, clothing

The Geography of Kuwait:
Total Size of Kuwait: 17,818 km² (source: wikipedia)
Geographical Low Point of Kuwait: Persian Gulf 0 m

Geographical High Point of Kuwait: unnamed location 306 m
Climate of Kuwait: dry desert; intensely hot summers; short, cool winters
General Terrain of Kuwait: flat to slightly undulating desert plain
World Region or Continent of Kuwait: Middle East

Geographical Coordinates: 29 30 N, 45 45 E
The People of  Kuwait & Culture
Kuwait Government Type: constitutional hereditary emirate
Kuwait Nationality: Kuwaiti(s)
Kuwait National Holiday: National Day, 25 February (1950)
Kuwait Independence: 19 June 1961 (from UK)
Kuwait National Symbol: golden falcon
Kuwait National Anthem or Song: Al-Nasheed Al-Watani (National Anthem)
Kuwait Languages Spoken: Arabic, (official), English widely spoken
Kuwait Religions: Muslim 85% (Sunni 70%, Shi'a 30%), Christian, Hindu, Parsi, and other 15%
Interesting Facts about Kuwait:
The name Kuwait is derived from an Arabic word that means "fort".
In Kuwait, there are over 43% of overweight or obese people.
The world's most valuable currency is the Kuwaiti dinar. Despite claims to the contrary, in Kuwait, money is yelled from rooftops.
Foreigners make over 70% of the population of Kuwait.
Did you know that Kuwait has no natural sources of drinking water? They solely make use of desalination plants.
Despite its wealth and advancement, Kuwait is rather behind in terms of transportation due to the lack of railways.
Kuwait is the first country in the Gulf to establish a constitution and a parliament.
15th tallest sculptured skyscraper in the world is Kuwait's Al Hamra skyscraper. It is Kuwait City's tallest tower and the 23rd tallest building in the entire world. It took around six years to complete. It is 414 meters tall and contains 80 storeys.
Men cannot present gifts to women directly; instead, their spouses, mothers, sisters, or other female relatives must do so.
Falcons can be observed in several places in Kuwait. All Kuwaiti postage stamps and currency include falcon imagery. The falcon, which is its national bird, explains why it is so powerful.
The Kuwaiti national anthem, Al-Nasheed Al-Watani, was first performed in 1978 and features lyrics by Ahmad Meshari Al-Adwani.
Kuwaitis eat with their right hands. One should leave some food on the plate after finishing their meal to prevent it from becoming overstuffed. When the host rises, the meal is over.
In 2006, Kuwait became the first country to sanction camel racing, which included remote-controlled robot jockeys.
The State of Kuwait is the name given to the nation.
Kuwait's climate is dry and desert, with long, sweltering summers and short, frigid winters.
The Grand Mosque is the largest and the official mosque in Kuwait. Of its overall area of 45,000 square meters (480,000 square feet), the building alone occupies 20,000 square meters (220,000 square feet). The main prayer hall includes 144 windows for illumination, 144 teakwood doors, and is 72 meters (236 feet) wide on both sides.
Kuwaiti cuisine is a fusion of the cuisines of Arabia, Iran, India, and the Mediterranean. A popular meal in Kuwaiti cuisine is machboos, a rice-based specialty that is frequently served with basmati rice that has been spiced with either chicken or mutton.