Uganda | History, Capital, Language, Flag, Facts & Geography of Uganda
History of Uganda:
South-eastern Africa's landlocked nation of Uganda. It's often referred to as the "Pearl of Africa."
Prior to the Bantu people's migration into the region and the establishment of multiple kingdoms, Uganda had been inhabited by tribal hunter-gatherers for thousands of years. The Empire of Kitara, the Kingdom of Buganda, and the Kingdom of Ankole were some of these kingdoms.
In the 1830s, Arab traders arrived in Uganda, and in the 1860s, British explorers arrived. Uganda was placed under the rule of the British Empire in 1888 and remained one until 1962, when it attained independence. Benedicto Kiwanuka served as Uganda's first Chief Minister.
In 1971, Idi Amin took control of the country and became a dictator. About 300,000 people were killed by the government during this period. The persecution continued under the rule of Milton Obote from 1980 to 1985. Since 1986, the country has enjoyed certain stability.
Information about Uganda:
| | |
| --- | --- |
| Capital | Kampala |
| Population | 48,832,581 (Source: 2023 worldometer) |
| Major Cities | Kampala (capital), Gulu, Mbale, Lira, Mbarara, Jinja, Kasese, Fort Portal, Mukono |
| Borders | South Sudan to the north, Kenya to the east, Tanzania and Rwanda to the south, and the Democratic Republic of the Congo to the west |
| Gross Domestic Product (GDP) | $45,559,202,049 (2022 worldometer) |
| Currency | Ugandan shilling (UGX) |
Flag of Uganda: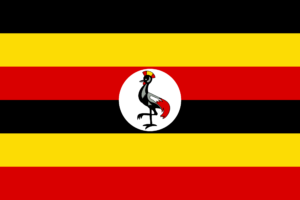 Uganda Economy Key Industries:
Uganda Major Industries: sugar, brewing, tobacco, cotton textiles; cement, steel production
Uganda Agricultural Products: coffee, tea, cotton, tobacco, cassava (tapioca), potatoes, corn, millet, pulses, cut flowers; beef, goat meat, milk, poultry
Uganda Natural Resources: copper, cobalt, hydropower, limestone, salt, arable land
Uganda Major Exports: coffee, fish and fish products, tea, cotton, flowers, horticultural products; gold
Uganda Major Imports: capital equipment, vehicles, petroleum, medical supplies; cereals
The Geography of Uganda:
Total Size of Uganda: 241,550 km² (source: wikipedia)
Geographical Low Point of Uganda: Lake Albert 621 m
Geographical High Point of Uganda: Margherita Peak on Mount Stanley 5,110 m
Climate of Uganda: Tropical; generally rainy with two dry seasons (December to February, June to August); semiarid in northeast
General Terrain of Uganda: mostly plateau with rim of mountains
World Region or Continent of Uganda: Africa
Geographical Coordinates: 1 00 N, 32 00 E
The People of  Uganda & Culture
Uganda Government Type: republic
Uganda Nationality: Ugandan (s)
Uganda National Holiday: Independence Day, 9 October (1962)
Uganda Independence: 9 October 1962 (from UK)
Uganda National Symbol: grey crowned crane
Uganda National Anthem or Song: Oh Uganda, Land of Beauty!
Uganda Languages Spoken: English, Ganda or Luganda, other Niger-Congo languages, Nilo-Saharan languages, Swahili, Arabic
Uganda Religions: Roman Catholic 33%, Protestant 33%, Muslim 16%, indigenous beliefs 18%
Interesting Facts about Uganda:
Africa's Pearl: Due to its stunning natural beauty and wide variety of wildlife, Uganda is frequently referred to as the "Pearl of Africa."
The Nile's Origin: Uganda is home to Lake Victoria, which serves as the source of the Nile River, Africa's longest river.
Gorilla Management: Uganda is a popular destination for gorilla trekking and conservation efforts because it is home to approximately half of the remaining mountain gorillas in the world.
Major Five: One of the few countries in Africa that has the "Big Five" game animals is Uganda. buffaloes, leopards, lions, elephants, and rhinoceroses
Victoria Lake: Uganda, Tanzania, and Kenya share the world's second-largest freshwater lake, Lake Victoria, which is Africa's largest lake.
Inaccessible Bwindi Forest: Uganda's Bwindi Impenetrable Forest serves as a haven for mountain gorillas and is a UNESCO World Heritage Site.
Diverse Cultures: Over fifty distinct ethnic groups inhabit Uganda, each with its own distinct traditions, languages, and practices.
Ecotourism: Uganda advances ecotourism and is known for its endeavors in reasonable the travel industry, untamed life protection, and local area based drives.
Perch dun: Lake Victoria is well known for its Nile roost, a famous fish animal varieties that can arrive at great sizes.
Falls of Murchison: The famous Murchison Falls can be found in Murchison Falls National Park. Here, the Nile River cuts through a narrow gorge to form a magnificent waterfall.
Era of Idi Amin: Uganda was managed by President Idi Amin from 1971 to 1979, a period set apart by political suppression and denials of basic freedoms.
Equator Crossing: Uganda is on the equator, and there are several clearly marked points where visitors can cross between the northern and southern hemispheres.
Bunyonyi Lake: The picturesque Lake Bunyonyi in southwestern Uganda is well-known for its scenic beauty and lack of crocodiles and bilharzia.
Birdwatching Heaven: With more than 1,000 bird species, Uganda is an excellent objective for birdwatching fans.
Mountains of Rwenzori: Uganda is home to the Rwenzori Mountains, otherwise called the "Mountains of the Moon," which deal staggering high scenes and testing climbing amazing open doors.
National Park of Kibale: Chimpanzee trekking in Kibale National Park is well-known for allowing visitors to observe these primates in their natural environment.
Day of the Dead: On June 3rd each year, Uganda observes Martyrs' Day to honor Christian martyrs who were killed for their faith.
Independence: On October 9, 1962, Uganda won its independence from British colonial rule.
Kampala: Uganda's largest and capital city, Kampala is well-known for its lively markets, historic landmarks, and bustling street life.
Ugandan Food: Groundnut sauce, posho (maize flour), and matooke (steamed green bananas) are staples in Ugandan cuisine that reflect local tastes and customs.
Kenya, South Sudan, Rwanda, Tanzania, the Democratic Republic of the Congo, and Uganda all have land borders with Uganda.