India | History, Capital, Language, Flag, Facts & Geography of India
Information about India:
| | |
| --- | --- |
| Capital | Delhi |
| Population | 1,431,234,208 (Source: 2023 worldometer) |
| Major Cities | Delhi, Bangalore, Visakhapatnam, Hyderabad, Lucknow, Indore, Pune, Ahmedabad, Bhopal, Surat, Mumbai |
| Borders | Bangladesh China Afghanistan Myanmar Bhutan Nepal and Pakistan and maritime borders with Sri Lanka Maldives and Indonesia. |
| Gross Domestic Product (GDP) | $3,385,090,000,000 (2022 worldometer) |
| Currency | Indian rupee (INR) |
Flag of India: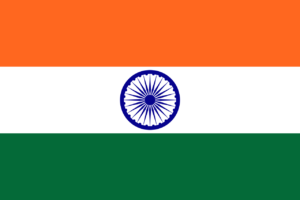 Flag Description: The Indian flag, sometimes known as the Tricolor, was introduced on July 22, 1947. It has three horizontal stripes that are saffron at the top, white in the middle, and green at the bottom. The Ashoka Chakra, a 24-spoke navy blue wheel, is located in the center. White stands for honesty and purity, green denotes prosperity, and saffron is the color of strength and sacrifice.
India Economy Key Industries:
India Major Industries: textiles, chemicals, food processing, steel, transportation equipment, cement, mining, petroleum, machinery, software
India Agricultural Products: rice, wheat, oilseed, cotton, jute, tea, sugarcane, potatoes; cattle, water buffalo, sheep, goats, poultry; fish
India Natural Resources: coal (fourth-largest reserves in the world), iron ore, manganese, mica, bauxite, titanium ore, chromite, natural gas, diamonds, petroleum, limestone, arable land
India Major Exports: textile goods, gems and jewelry, engineering goods, chemicals, leather manufactures
India Major Imports: crude oil, machinery, gems, fertilizer, chemicals
The Geography of India:
Total Size of India: 331,690 km² (source: wikipedia)
Geographical Low Point of India: Indian Ocean 0 m

Geographical High Point of India: Kanchenjunga 8,598 m

Climate of India: varies from tropical monsoon in south to temperate in north
General Terrain of India: upland plain (Deccan Plateau) in south, flat to rolling plain along the Ganges, deserts in west, Himalayas in north
World Region or Continent of India:  Asia

Geographical Coordinates: 20 00 N, 77 00 E
Major Landforms of India: Himalayan Mountain Range, Punjab Plain,Thar Desert, Chin Hills, Khasi Hills, Deccan Plateau, Mount Kangchenjunga, Coastal Plains
Major Bodies of Water: Ganges River, Brahmaputra River, Godavari River, Wular Lake, Chilika Lake, Loktak Lake, Bay of Bengal, Arabian Sea, Laccadive Sea, Indian Ocean
Famous Places of India: 
Taj Majal,
India Gate,
Lotus Temple,
Jama Masjid,
Qutub Minar,
Mysore Palace,
Ajanta Caves,
The Red Fort,
Ganges River,
Lake Palace,
Virupaksha Temple,
Goa beaches,
Kanha National Park,
Golden Temple in Amritsar
The People of  India & Culture
India Government Type: federal republic
India Nationality: Indian (s)
India National Holiday: Republic Day, 26 January (1950)

India Independence: 15 August 1947 (from UK)
India National Symbol:
Animal – Bengal tiger

Bird – Peacock

Reptile – King cobra

Aquatic animal – Ganges River dolphin

Tree – Banyan tree

Fruit – Mango

Emblem – Three lions from the Lion Capital of Ashoka

Motto – Truth alone triumphs

Other symbols – River Ganges, Indian elephant, Taj Majal
India National Anthem or Song: Jana-Gana-Mana
India Languages Spoken: English is the most important language for national, political, and commercial communication; Hindi is the national language and primary tongue of 30% of the people; there are 14 other official languages: Bengali, Telugu, Marathi, Tamil, Urdu, Gujarati, Malayalam, Kannada, Oriya, Punjabi, Assamese, Kashmiri, Sindhi, and Sanskrit; Hindustani is a popular variant of Hindi/Urdu spoken widely throughout northern India but is not an official language
India Religions: Hindu 80.5%, Muslim 13.4%, Christian 2.3%, Sikh 1.9%, other 1.8%, unspecified 0.1% (2001 census)
Interesting Facts about India:
India has the second-largest population in the world.
India is the seventh-largest country in the world.
India's national animal is the endangered Bengal Tiger.
India has the second-highest proportion of English speakers in the world.
Hinduism, the world's oldest religion, is the most widely practiced religion in India.
Chess was invented in India.
The largest family in the world is that of an Indian man who has 39 wives and 94 children.
India has the largest democratic educational ecosystem in the entire globe.
The Indian national team has won every previous Kabaddi World Cup.
Bollywood is the #1 movie producer in the world, surpassing Nollywood (Nigerian cinema) and even Hollywood.
With 22% of the global milk production, India is the leading producer in the world.
London has more Indian businesses than Mumbai or Delhi combined.
India is home to seven important mountains, the most well-known of which is the Himalayas. The Himalayas, whose high altitude, length, and direction cause summer monsoons to deliver rain or snow, also contribute to India's unique climate.
Not all of Indian cuisine's dishes are hot and spicy, despite the fact that it is renowned for its generous use of spices and the excellence of its curries.
Cows are considered sacred in Indian culture. Cows are respected in India because Hindus, who make up the majority of the population (80%), consider them sacred. Its four legs represent the "Vedas," or the historic Hindu texts. Its udder stands in for the four main objectives of life: material achievement, satisfaction of appetites, righteousness, and redemption. Its horns stand for the gods.
The Indian rupee is one of the most extensively used currencies in the world. Pakistan utilized Indian rupees that had the word "Pakistan" engraved on them after obtaining independence before it could print its own.
No nation has ever attacked India in the past 100,000 years.
The sari first emerged at least 3000 BCE. When choosing their hue for a sari, wearers typically consider the occasion. Brides usually wear red to symbolize fertility and prosperity.
White tigers are only found in Indian tigers. The Bengal tiger's white subspecies was created by a difference in pigmentation. They often grow to be larger creatures than their orange-colored cousins.
The second-largest newspaper market in the world is found in India. India has 1300 million readers and over 100,000 newspapers.
Pakistan, China, Nepal, Bhutan, Bangladesh, Myanmar, and Afghanistan are all neighbors of India.