Andorra | History, Capital, Language, Flag, Facts & Geography of Andorra
History of Andorra:
Andorra was originally founded as a buffer state in the Middle Ages by the French ruler Charlemagne. It was intended to keep Muslim Moors out of France. The Andorrans should fight the Moors and defend France. In return, Charlemagne gave them a blank slate of powers. Several of these buffer states have been created. Andorra is the last of these states that is still an independent country.
Andorra has had a succession of rulers beginning with Charles II, grandson of Charlemagne in the 7th century. The state was passed on to various leaders, sometimes as a reward, sometimes through marriage. At one point there was a dispute as to whether Andorra belonged to France or Spain. They decided to share it. There are fellow princes who rule this country. Bishop Urgel from Spain and the President of France.
Although Andorra is a small landlocked country, it remains economically strong, thanks largely to tourism. It is also considered a tax haven for the wealthy. Although not a member of the European Union, it uses the Euro as its currency.
Information about Andorra:
| | |
| --- | --- |
| Capital | Andorra la Vella |
| Population | 80,127 (Source: 2023 worldometer) |
| Major Cities | Andorra la Vella (capital), Escaldes-Engordany, Sant Julià de Lòria, Encamp, El Pas de la Casa |
| Borders | France to the north and east and by Spain to the south and west |
| Gross Domestic Product (GDP) | $3,352,032,737 (2022 worldometer) |
| Currency | euro (EUR) |
Flag of Andorra: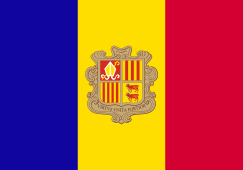 Andorra Economy Key Industries:
Andorra Major Industries: tourism (particularly skiing), cattle raising, timber, banking
Andorra Agricultural Products: small quantities of rye, wheat, barley, oats, vegetables; sheep
Andorra Natural Resources: hydropower, mineral water, timber, iron ore, lead
Andorra Major Exports: tobacco products, furniture
Andorra Major Imports: consumer goods, food, electricity
The Geography of Andorra:
Total Size of Andorra: 468 km² (source: 2022 The world factbook)
Geographical Low Point of Andorra: Riu Runer 840 m
Geographical High Point of Andorra: Coma Pedrosa 2,946 m
Climate of Andorra: temperate; snowy, cold winters and warm, dry summers
General Terrain of Andorra: rugged mountains dissected by narrow valleys
World Region or Continent of Andorra:  Europe
Geographical Coordinates: 42 30 N, 1 30 E
The People of  Andorra & Culture
Andorra Government Type: parliamentary democracy
Andorra Nationality: Andorran(s)
Andorra National Holiday: Our Lady of Meritxell Day, 8 September (1278)
Andorra Independence: 1278 (formed under the joint suzerainty of the French count of Foix and the Spanish bishop of Urgel)
Andorra National Symbol:
Andorra National Anthem or Song: El Gran Carlemany (The Great Charlemagne)
Andorra Languages Spoken: Catalan (official), French, Castilian, Portuguese
Andorra Religions: Roman Catholic  (predominant)
Interesting Facts about Andorra:
Andorra is a landlocked country in southwestern Europe. Officially the Principality of Andorra.
Andorra is one of the safest countries in the world, with very few pickpockets, car thefts and crime.
Some estimate that Andorra is her 14th oldest country in the world.
The offices of the government, courts and prisons are located in the "Valley House" he built in 1580 in Andorra La Vela, the capital of Andorra. Andorra is also home to the world's most prestigious cycling race, the Tour de France.
The country's military budget relies on voluntary donations.
The rule of the country is that all able-bodied men must serve when called upon. Such people are called by alarms in case of natural disasters or emergencies.
A principality (a territory ruled by a prince). The capital of Andorra, Andorra la Vella, is the highest capital in Europe at 1,023 meters above sea level.
It is also the only country in the world where Catalan is the official language.
Andorra is not a full member of the European Union.
According to the CIA, Andorra has the eighth highest life expectancy in the world, followed by Monaco and Chad.
More than 10 million tourists visited Andorra last year, according to the World Bank. This fact highlights the importance of tourism to the country's economy.
One theory is that the name Andorra may come from the Arabic al dullah, which means 'pearl'.
In 1933 Andorra was occupied by France.
The country served as an important smuggling route between Vichy, France and Spain during World War II.
Andorra became a member of the United Nations and the Council of Europe in 1993. The country's political system was also modernized in the same year.
Andorra has two princes. The President of France and Bishop Urgel act as joint princes of the country. Note that it is the only joint principality in the world.