Zimbabwe | History, Capital, Language, Flag, Facts & Geography of Zimbabwe
History of Zimbabwe:
The first occupants of Zimbabwe were moved out by relocating Bantu clans. Around 1200 CE, the powerful city-state of Great Zimbabwe was established. After Europeans arrived on the coast, the interior of Africa, where Zimbabwe is located, remained unaffected by European influences for years.
Rhodesia was given its name by the British at the end of the 1800s when they got involved. Southern Rhodesia was annexed by the British in 1923. Zimbabwe would become Zimbabwe, and Zambia would become Northern Rhodesia. The local government declared independence in 1965, but the nation did not fully separate from Britain until 1980. Robert Mugabe was the first prime minister of Zimbabwe, and he has led the country ever since.
Information about Zimbabwe:
| | |
| --- | --- |
| Capital | Harare |
| Population | 16,665,409 (Source: 2023 worldometer) |
| Major Cities | Harare (capital), Bulawayo, Chitungwiza, Mutare, Gweru, Kwekwe, Kadoma, Ruwa, Chinhoyi |
| Borders | Mozambique to the east, Zambia to the north, Botswana and Namibia to the west, and South Africa to the south |
| Gross Domestic Product (GDP) | $20,678,055,598 (2022 worldometer) |
| Currency | Zimbabwean dollar (ZWD) |
Flag of Zimbabwe: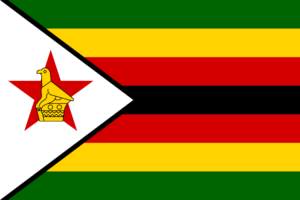 Zimbabwe Economy Key Industries:
Zimbabwe Major Industries: mining (coal, gold, platinum, copper, nickel, tin, clay, numerous metallic and nonmetallic ores), steel; wood products, cement, chemicals, fertilizer, clothing and footwear, foodstuffs, beverages
Zimbabwe Agricultural Products: corn, cotton, tobacco, wheat, coffee, sugarcane, peanuts; sheep, goats, pigs

Zimbabwe Natural Resources: coal, chromium ore, asbestos, gold, nickel, copper, iron ore, vanadium, lithium, tin, platinum group metals
Zimbabwe Major Exports: cotton, tobacco, gold, ferroalloys, textiles/clothing
Zimbabwe Major Imports: machinery and transport equipment, other manufactures, chemicals, fuels
The Geography of Zimbabwe:
Total Size of Zimbabwe: 390,760 km² (source: wikipedia)
Geographical Low Point of Zimbabwe: junction of the Runde and Save rivers 162 m
Geographical High Point of Zimbabwe: Inyangani 2,592 m
Climate of Zimbabwe: Tropical; moderated by altitude; rainy season (November to March)
General Terrain of Zimbabwe: mostly high plateau with higher central plateau (high veld); mountains in east
World Region or Continent of Zimbabwe: Africa
Geographical Coordinates: 20 00 S, 30 00 E
The People of  Zimbabwe & Culture
Zimbabwe Government Type: parliamentary democracy
Zimbabwe Nationality: Zimbabwean(s)
Zimbabwe National Holiday: Independence Day, 18 April (1980)
Zimbabwe Independence: 18 April 1980 (from UK)
Zimbabwe National Symbol: Zimbabwe bird symbol; African fish eagle
Zimbabwe National Anthem or Song: Kalibusiswe Ilizwe leZimbabwe [Northern Ndebele language] Simudzai Mureza WeZimbabwe [Shona] (Blessed Be the Land of Zimbabwe)
Zimbabwe Languages Spoken: English (official), Shona, Sindebele (the language of the Ndebele, sometimes called Ndebele), numerous but minor tribal dialects
Zimbabwe Religions: syncretic (part Christian, part indigenous beliefs) 50%, Christian 25%, indigenous beliefs 24%, Muslim and other 1%
Interesting Facts about Zimbabwe:
Great Ruins of Zimbabwe: One of Africa's largest and most significant archaeological sites is Great Zimbabwe, an ancient city and UNESCO World Heritage Site.
Day of Independence: On April 18, Zimbabwe commemorates the day that it was granted independence from British colonial rule in 1980.
Kariba Lake: Zambia and Zimbabwe share one of the world's largest artificial lakes, Lake Kariba. It provides opportunities for wildlife viewing, boating, and fishing.
Falls of Victoria: A significant portion of Victoria Falls, one of the Seven Natural Wonders of the World and a well-known tourist destination, is located in Zimbabwe.
Currency: Although foreign currencies like the US dollar and the South African rand are frequently used, the Zimbabwean dollar is the country's official currency.
Monument of Great Zimbabwe National Park: The Incomparable Zimbabwe Public Landmark is a significant social legacy site that exhibits the old stone designs and the rich history of the locale.
Languages of Government: Ndebele, Shona, and English are Zimbabwe's official languages. Numerous other native dialects are likewise spoken all through the country.
Wilderness areas: Zimbabwe is well-known for its numerous national parks, including Matobo National Park, Hwange National Park, and Mana Pools National Park, all of which feature stunning natural beauty and incredible wildlife.
The Great Transfrontier Park of Limpopo: The Great Limpopo Transfrontier Park is a conservation area that includes Zimbabwe, South Africa, and Mozambique. Zimbabwe is a part of it.
Conservation of Wildlife: Zimbabwe has put in a lot of effort to protect wildlife, especially endangered species like the black rhinoceros and African elephant.
Music and Dance: In Zimbabwean culture, various genres of traditional music and dance, including mbira music and the energetic Jerusarema dance, play a significant role.
Acre of National Heroes: In Harare, the National Heroes Acre is a burial ground for prominent individuals and national heroes who have helped Zimbabwe achieve independence and progress.
Awesome Dyke: The Great Dyke, a geological feature rich in platinum, gold, and chrome mineral resources, can be found in Zimbabwe.
Zimbabwe National Gallery: An extensive collection of contemporary and traditional Zimbabwean art can be found in Harare at the National Gallery of Zimbabwe.
The tallest waterfall: Mtarazi Falls, the country's tallest waterfall, plunges 2,500 feet (762 meters) into the water in Zimbabwe.
Matobo Slopes: In Zimbabwe's Matobo National Park, the Matobo Hills are renowned for their distinctive rock formations, ancient rock art, and Cecil Rhodes' burial ground.
Dam Kariba: One of the largest reservoirs in the world, the Kariba Dam on the Zambezi River supplies Zambia and Zimbabwe with hydroelectric power.
Trade on a global scale: Zimbabwe's agricultural exports include citrus fruits, cotton, and tobacco. Additionally, its mining industry is expanding.
Different Culture: Zimbabwe is home to different ethnic gatherings, each with its own practices, music, dance, and food, adding to the country's dynamic social legacy.
Landlocked nation: Zimbabwe is a landlocked nation in Southern Africa that is surrounded by Botswana, Mozambique, South Africa, and Zambia.