Tanzania | History, Capital, Language, Flag, Facts & Geography of Tanzania
History of Tanzania:
People have lived in the Tanzanian region for thousands of years. Some of the oldest human remains were discovered in Tanzania. Bantu tribal peoples settled in the area about 2,000 years ago and organized city-states were formed around 500 AD. In the 1700s, the Arabs arrived and began using Tanzania for the slave trade. Sultan Seyyid Said claimed the coastal areas and made Zanzibar his capital. Zanzibar quickly became the main site of the Arab slave trade.
The first European to arrive was the Portuguese explorer Vasco da Gama in 1498. Portugal claimed control of the coast but did not settle the area. Portugal tried to keep control of maritime trade and exact tribute from local tribes. However, the Omani Arabs soon forced Portugal out of the area.
It was in Tanzania that the Scottish missionary David Livingstone, who was fighting against the slave trade, was "found." by American journalist Henry Stanley and Stanley made his famous statement ?Dr. Livingstone, I guess?? Stanley was directed by the New York Herald to find David Livingstone.
Over the years, the British became increasingly involved in the region. In 1890, Zanzibar became a British protectorate. At the same time, Germany took control of another area of ​​Tanzania called Tanganyika. After World War II, the British took full control of Zanzibar and Tanganyika until 1961, when Tanganyika became an independent state. In 1964, Tanganyika and Zanzibar merged to form Tanzania.
Information about Tanzania:
| | |
| --- | --- |
| Capital | Dar es Salaam |
| Population | 67,801,861 (Source: 2023 worldometer) |
| Major Cities | Dar es Salaam (capital), Mbeya, Dodoma, Mwanza, Tabora, Morogoro, Zanzibar, Tanga, Kahama |
| Borders | Kenya and Uganda on the north, Rwanda, Burundi and the Democratic Republic of the Congo on the west, and Zambia, Malawi and Mozambique on the south |
| Gross Domestic Product (GDP) | $75,709,289,056 (2022 worldometer) |
| Currency | Tanzanian shilling (TZS) |
Flag of Tanzania: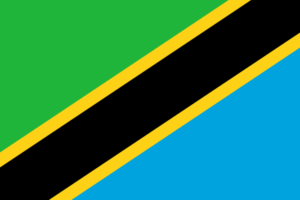 Tanzania Economy Key Industries:
Tanzania Major Industries: agricultural processing (sugar, beer, cigarettes, sisal twine); diamond, gold, and iron mining, salt, soda ash; cement, oil refining, shoes, apparel, wood products, fertilizer
Tanzania Agricultural Products: coffee, sisal, tea, cotton, pyrethrum (insecticide made from chrysanthemums), cashew nuts, tobacco, cloves, corn, wheat, cassava (tapioca), bananas, fruits, vegetables; cattle, sheep, goats
Tanzania Natural Resources: hydropower, tin, phosphates, iron ore, coal, diamonds, gemstones, gold, natural gas, nickel
Tanzania Major Exports: gold, coffee, cashew nuts, manufactures, cotton
Tanzania Major Imports: consumer goods, machinery and transportation equipment, industrial raw materials, crude oil
The Geography of Tanzania:
Total Size of Tanzania: 947,303 square kilometres (source: wikipedia)
Geographical Low Point of Tanzania: Indian Ocean 0 m
Geographical High Point of Tanzania: Kilimanjaro 5,895 m
Climate of Tanzania: varies from tropical along coast to temperate in highlands
General Terrain of Tanzania: plains along coast; central plateau; highlands in north, south
World Region or Continent of Tanzania: Africa
Geographical Coordinates: 6 00 S, 35 00 E
The People of  Tanzania & Culture
Tanzania Government Type: republic
Tanzania Nationality: Tanzanian(s)
Tanzania National Holiday: Union Day (Tanganyika and Zanzibar), 26 April (1964)
Tanzania Independence: 26 April 1964; Tanganyika became independent 9 December 1961 (from UK-administered UN trusteeship); Zanzibar became independent 19 December 1963 (from UK); Tanganyika united with Zanzibar 26 April 1964 to form the United Republic of Tanganyika and Zanzibar; renamed United Republic of Tanzania 29 October 1964
Tanzania National Symbol: Uhuru (Freedom) torch
Tanzania National Anthem or Song: Mungu ibariki Afrika (God Bless Africa)
Tanzania Languages Spoken: Kiswahili or Swahili (official), Kiunguja (name for Swahili in Zanzibar), English (official, primary language of commerce, administration, and higher education), Arabic (widely spoken in Zanzibar), many local languages
Tanzania Religions: mainland – Christian 30%, Muslim 35%, indigenous beliefs 35%; Zanzibar – more than 99% Muslim

Interesting Facts about Tanzania:
Tanzania has two capitals, with Dodoma as the official capital and Dar Es Salaam, the de facto seat of government.
This is home to the highest peak in Africa, Mount Kilimanjaro! While you may already know this, did you know that the 19,341-foot mountain is actually a dormant volcano? It has three volcanic cones named Kibo, Shera and Mawenzi. This is also the highest isolated mountain in the world!
Besides being the highest place in the neighborhood, it's also incredibly beautiful. The famous journalist and writer Ernest Hemingway even wrote a short story about it called "Snow on Mount Kilimanjaro" about a writer named Harry who was dying and left with his wife to admire the snowfall in the last days of his life. his, among other things.
One of the oldest human skulls has been discovered in the Olduvai Gorge in Tanzania. It is about 2 million years old.
"Bohemian Rhapsody", "Somebody to Love", "I Want to Break Free", etc. Just think of Freddie Mercury singing at his best. Rockstar has started so many trends and it was born in Tanzania!
Ol Doniyo Lengai is the only volcano in the world that actively spews natrocarbonatite lava. At 2,890 m, this restless volcano is also known because its name denotes the belief of the Maassai locals that this is the homeland of God.
The majestic Zanzibar leopard was once endemic to this country, but is sadly now thought to be near-extinct.
But this wildlife-rich country is still considered one of the few places in the world where new species can still be discovered. For example, the kipunji monkey was discovered only in 2003.
In fact, only 30% of Tanzania's territory is made up of national parks! Sergenti National Park boasts one of the best and also one of the oldest ecosystems on the planet. It is also home to lions, antelopes, leopards, gazelles, and more. And Sergenti is so big that it is actually said to be bigger than Northern Ireland!
The Great Migration is taking place in Sergenti with some 1.5 million zebras, antelopes and wildebeest crossing the plains in search of fresh pastures. During this migration, there is a crossing of the Mara River in which these creatures must cross a river full of dangerous crocodiles!