South Africa | History, Capital, Language, Flag, Facts & Geography of South Africa
Information about South Africa:
| | |
| --- | --- |
| Capital | Pretoria (administrative capital) |
| Population | 60,414,495 (Source: 2023 worldometer) |
| Major Cities | Pretoria (administrative capital), Johannesburg, Cape Town, Durban, Gqeberha, Bloemfontein, Pietermaritzburg, East London, Soweto |
| Borders | Namibia to the northwest, by Botswana and Zimbabwe to the north, and by Mozambique and Swaziland to the northeast and east |
| Gross Domestic Product (GDP) | $405,870,000,000 (2022 worldometer) |
| Currency | rand (ZAR) |
Flag of South Africa: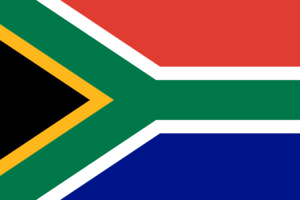 South Africa Economy Key Industries:
South Africa Major Industries: mining (world's largest producer of platinum, gold, chromium), automobile assembly, metalworking, machinery, textiles, iron and steel, chemicals, fertilizer, foodstuffs, commercial ship repair
South Africa Agricultural Products: corn, wheat, sugarcane, fruits, vegetables; beef, poultry, mutton, wool, dairy products
South Africa Natural Resources: gold, chromium, antimony, coal, iron ore, manganese, nickel, phosphates, tin, uranium, gem diamonds, platinum, copper, vanadium, salt, natural gas
South Africa Major Exports: gold, diamonds, platinum, other metals and minerals, machinery and equipment
South Africa Major Imports: machinery and equipment, chemicals, petroleum products, scientific instruments, foodstuffs
The Geography of South Africa:
Total Size of South Africa: 1.22 million km² (source: wikipedia)
Geographical Low Point of South Africa: Atlantic Ocean 0 m
Geographical High Point of South Africa: Njesuthi 3,408 m
Climate of South Africa: mostly semiarid; subtropical along east coast; sunny days, cool nights
General Terrain of South Africa: vast interior plateau rimmed by rugged hills and narrow coastal plain
World Region or Continent of South Africa: Africa
Geographical Coordinates: 29 00 S, 24 00 E
Major Landforms of South Africa: Drakensberg Mountain Range, Magaliesberg Mountains, Karoo Plateau, Table Mountain, Highveld, the Great Escarpment, Lesotho Highlands, Kalahari Basin, Kalahari Desert, Witwatersrand, the Bushveld, Cape of Good Hope
Major Bodies of Water: Orange River, Limpopo River, Vaal River, Lake Chrissie, False Bay, Indian Ocean, Atlantic Ocean
Famous Places of South Africa: 
Cape of Good Hope,
Table Mountain,
Kruger National Park,
Robben Island,
Boulders Beach,
Signal Hill,
Lion's Head,
Big Hole,
Cape Town,
Garden Route,
Johannesburg,
Blyde River Canyon Nature Reserve
The People of  South Africa & Culture
South Africa Government Type: republic
South Africa Nationality: South African(s)
South Africa National Holiday: Freedom Day, 27 April (1994)
Other Holidays of South Africa:
New Years' Day (January 1),
Human Rights Day (March 21),
Good Friday,
Freedom Day (April 27),
Workers' Day (May 1),
Youth Day (June 16),
National Women's Day (August 9),
Heritage Day (September 24),
Day of Reconciliation (December 16),
Christmas (December 25)
South Africa Independence: 31 May 1910 (from UK); note – South Africa became a republic in 1961 following an October 1960 referendum
South Africa National Symbol:
Animal – Springbok

Bird – Blue Crane

Fish – Galjoen

Tree – Real yellowwood

Flower – Protea

Motto – Unity in Diversity

Other symbols – Coat of arms
South Africa National Anthem or Song: National Anthem of South Africa
South Africa Languages Spoken: IsiZulu 23.8%, IsiXhosa 17.6%, Afrikaans 13.3%, Sepedi 9.4%, English 8.2%, Setswana 8.2%, Sesotho 7.9%, Xitsonga 4.4%, other 7.2% (2001 census)
South Africa Religions: Zion Christian 11.1%, Pentecostal/Charismatic 8.2%, Catholic 7.1%, Methodist 6.8%, Dutch Reformed 6.7%, Anglican 3.8%, other Christian 36%, Islam 1.5%, other 2.3%, unspecified 1.4%, none 15.1% (2001 census)
Interesting Facts about South Africa:
One of the most interesting facts about South Africa is that when they hosted the FIFA World Cup in 2010, they were the first African country to do so. To prepare for this global event, the country has invested around 30 billion rand (£1.4 million) to build 10 stadiums to host each match. The opening match and final match took place in Johannesburg, South Africa's largest city.
Table Mountain is a famous monument to visit in South Africa! One of the world's oldest mountains, this 240-million-year-old monolith is home to more than 2,000 species of endemic plants. You can also spot some epic wildlife here, such as the rock hyrax, a mammal related to elephants (but more like guinea pigs!).
Cape Winelands in South Africa? Prepare to immerse yourself in the most beautiful vineyards in the world, flanked by majestic mountains, cobalt seas and verdant valleys. The Dutch Cape Winelands farms have unique soil conditions that directly affect the quality of the grapes, resulting in distinct flavors. No wonder South Africa is one of the fastest growing destinations for wine tourism!
South Africa has three capitals instead of one: Cape Town, Pretoria and Bloemfontein. And they all serve different purposes. Cape Town is the legislative capital and also the seat of the country's Parliament; Bloemfontein is the judicial capital where the Supreme Court of Appeal is located; Pretoria is the administrative/executive capital, where the Union buildings and public services are located.
The spring antelope found in South Africa is their national animal! This is why it is worn as the emblem of their rugby team, aka the Springboks!
Calling to all adrenaline junkies! Meet at Bloukrans Bridge located in the Western Cape region of South Africa. This iconic landmark is known as the highest commercial bungee jumping spot in the world! At an impressive 216m (709ft), your heart rate will increase rapidly.