Singapore | History, Capital, Language, Flag, Facts & Geography of Singapore
History of Singapore:
South of Malaysia is the small but significant island country of Singapore. The Sumatran Srivijaya Empire founded the first settlement in Singapore in the second century AD. The Sultanate of Johor later ruled the region between the 16th and the 19th centuries.
Sir Thomas Stamford Raffles traveled to the islands in 1819. He served as the British East India Company's agent. After that, Great Britain acquired the island and developed it into a significant commerce hub for Southeast Asia. The island was controlled by the Japanese during World War II, but once the Japanese were routed, Singapore became a British Crown Colony in 1946.
Singapore broke away from Britain and joined Malaysia as a sovereign nation in 1963. This did not, however, succeed, and Singapore attained complete independence in 1965.
Information about Singapore:
Capital
Singapore
Population

6,014,723 (Source: 2023 worldometer)

Major Cities

Singapore,
Hougang,
Tampines,
Pasir Ris,
Yishun,
Choa Chu Kang,
Toa Payoh,
Bukit Batok,

Borders
Malaysia to the north and Indonesia to the south, east and west. Singapore Island is connected by a bridge to Malaysia
Gross Domestic Product (GDP)

$466,789,000,000 (2022 worldometer)

Currency

Singapore dollar (SGD)
Flag of Singapore: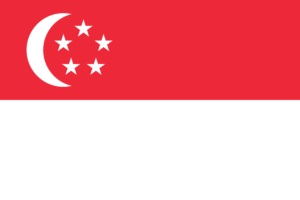 Singapore Economy Key Industries:
Singapore Major Industries: electronics, chemicals, financial services, oil drilling equipment, petroleum refining, rubber processing and rubber products, processed food and beverages, ship repair, offshore platform construction, life sciences, entrepot trade
Singapore Agricultural Products: rubber, copra, fruit, orchids, vegetables; poultry, eggs; fish, ornamental fish
Singapore Natural Resources: fish, deepwater ports
Singapore Major Exports: machinery and equipment (including electronics), consumer goods, chemicals, mineral fuels

Singapore Major Imports: machinery and equipment, mineral fuels, chemicals, foodstuffs
The Geography of Singapore:
Total Size of Singapore: 734.3 km2 (source: wikipedia)
Geographical Low Point of Singapore: Singapore Strait 0 m

Geographical High Point of Singapore: Bukit Timah 166 m
Climate of Singapore: Tropical; hot, humid, rainy; two distinct monsoon seasons – Northeastern monsoon (December to March) and Southwestern monsoon (June to September); inter-monsoon – frequent afternoon and early evening thunderstorms
General Terrain of Singapore: lowland; gently undulating central plateau contains water catchment area and nature preserve
World Region or Continent of Singapore:  Southeast Asia

Geographical Coordinates: 1 22 N, 103 48 E
The People of  Singapore & Culture
Singapore Government Type: parliamentary republic
Singapore Nationality: Singapore Strait 0 m
Singapore National Holiday: National Day, 9 August (1965)
Singapore Independence: 9 August 1965 (from Malaysian Federation)
Singapore National Symbol: lion
Singapore National Anthem or Song: Majulah Singapura (Onward Singapore)
Singapore Languages Spoken: Mandarin 35%, English 23%, Malay 14.1%, Hokkien 11.4%, Cantonese 5.7%, Teochew 4.9%, Tamil 3.2%, other Chinese dialects 1.8%, other 0.9% (2000 census)
Singapore Religions: Buddhist 42.5%, Muslim 14.9%, Taoist 8.5%, Hindu 4%, Catholic 4.8%, other Christian 9.8%, other 0.7%, none 14.8% (2000 census)
Interesting Facts about Singapore:
Chewing gum is prohibited in Singapore. Only those with proper prescriptions may chew gum.
Singapore is one of the twenty smallest countries in the world. The main island is barely 42 kilometers long and 23 kilometers wide, yet it encompasses over 683 square kilometers of land.
The maximum building height that can be built in Singapore is 280 meters.
The Tanjong Pagar Centre is the tallest building in Singapore, standing at 290 meters. The regular restriction of 280 meters was exceeded thanks to a special licence.
Five languages are spoken by Singaporeans, including Singlish, a regional dialect, and the four official languages of English, Chinese, Malay, and Tamil. But rather than being a broken language, it is a very challenging creole that is challenging to master for outsiders.
Singapore might have Southeast Asia's largest Yakult bottles.
Every every day, complimentary movie showings are available at Changi Airport. Visit Terminals 2 and 3 for, respectively, 2D and 4D films.
Singaporeans take the topic of toilets very seriously. In fact, the World Toilet Organization was founded in 2001 when the government sponsored a UN resolution proclaiming November 19 as World Toilet Day.
The 35-meter-tall highest indoor waterfall in the world is located in Singapore's Gardens by the Bay.
Long hair for men was prohibited by the government in the 1970s due to worries about the global expansion of the hippie movement.
One of only three modern city-states in the world, along with Monaco and the Vatican.
Singapore is the least corrupt city in Asia and ranks fifth in the world for corruption.
Caning is still a common method of punishment in Singapore.
The first park ever made particularly for gardening is the HortPark in Singapore, an important lifestyle hub in Asia.
The 2008 Formula One night race was the first ever to be held at the Singapore Grand Prix Racing Circuit, something it is proud of.
The Changi Airport was chosen as the World's Best Airport in 2016 for a record-breaking fourth time.
Singapore is home to the world's first night zoo.
The tallest natural peak in Singapore, Bukit Timah Hill, is only 164 meters high.
Singaporeans do not need a VISA to visit China, South Korea, North Korea, or the United States.
More over 3000 kilometers of roads exist in Singapore, covering the distance between Singapore and Hong Kong if they were laid end to end.
There are no nations that Singapore shares land borders with. On an island off the southernmost point of the Malay Peninsula, there lies a city-state called it. However, Singapore shares maritime borders with its neighbors and is encircled by sea. Singapore is divided from Peninsular Malaysia's western coast by the Strait of Malacca, and from Sumatra in Indonesia to the south by the Singapore Strait.