Seychelles | History, Capital, Language, Flag, Facts & Geography of Seychelles
History of Seychelles:
Seychelles is an island country located in the Indian Ocean. It was uninhabited when discovered by Europeans in the early 1500s and remained as such for over 150 years. In 1756, the French officially occupied the archipelago. They bear the name of a French finance minister. After the Napoleonic Wars of 1814, the Seychelles were taken over by the British. In 1903, the islands became a colony of Great Britain.
The Seychelles became an independent country in 1976. It has the same president, France-Albert René, who ruled the country from 1977 to 2004.
Information about Seychelles:
| | |
| --- | --- |
| Capital | Victoria |
| Population | 107,770 (Source: 2023 worldometer) |
| Major Cities | Victoria (capital), Beau Vallon, La Réunion, Baie Ste Anne, La Passe |
| Borders | Comoros, Madagascar, Mauritius, and the French overseas departments of Mayotte and Réunion to the south; and Maldives and the Chagos Archipelago to the east |
| Gross Domestic Product (GDP) | $1,588,406,479 (2022 worldometer) |
| Currency | Seychelles rupee (SCR) |
Flag of Seychelles: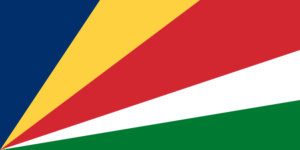 Seychelles Economy Key Industries:
Seychelles Major Industries: fishing, tourism, processing of coconuts and vanilla, coir (coconut fiber) rope, boat building, printing, furniture; beverages

Seychelles Agricultural Products: coconuts, cinnamon, vanilla, sweet potatoes, cassava (tapioca), bananas; poultry; tuna
Seychelles Natural Resources: fish, copra, cinnamon trees
Seychelles Major Exports: canned tuna, frozen fish, cinnamon bark, copra, petroleum products (reexports)

Seychelles Major Imports:  machinery and equipment, foodstuffs, petroleum products, chemicals

The Geography of Seychelles:
Total Size of Seychelles: 457 km2 (source: wikipedia)
Geographical Low Point of Seychelles: Indian Ocean 0 m
Geographical High Point of Seychelles: Morne Seychellois 905 m
Climate of Seychelles: Tropical marine; humid; cooler season during southeast monsoon (late May to September); warmer season during northwest monsoon (March to May)
General Terrain of Seychelles: Mahe Group is granitic, narrow coastal strip, rocky, hilly; others are coral, flat, elevated reefs
World Region or Continent of Seychelles: Africa
Geographical Coordinates: 4 35 S, 55 40 E
The People of  Seychelles & Culture
Seychelles Government Type: republic
Seychelles Nationality: Seychellois (singular and plural)
Seychelles National Holiday: Constitution Day (National Day), 18 June (1993)
Seychelles Independence:  29 June 1976 (from UK)
Seychelles National Symbol:
Seychelles National Anthem or Song: Koste Seselwa (Seychellois Unite)
Seychelles Languages Spoken: Creole 91.8%, English 4.9% (official), other 3.1%, unspecified 0.2% (2002 census)
Seychelles Religions: Roman Catholic 82.3%, Anglican 6.4%, Seventh Day Adventist 1.1%, other Christian 3.4%, Hindu 2.1%, Muslim 1.1%, other non-Christian 1.5%, unspecified 1.5%, none 0.6% (2002 census)
Interesting Facts about Seychelles:
Some of the rarest birds can be found in the Seychelles, including the Barefoot or Syer. This particular species of owl is so rare that it was once thought to be extinct but was rediscovered in 1959. You can find it in Morne Seychellois National Park on the island of Mahé.
The native Coco de mer, also known as the sea coconut or double coconut, produces the heaviest (about 15 kg) and the largest nut in the world.
Ian Fleming, author of the popular James Bond novels and short stories, went to the Seychelles Islands in 1958 to find inspiration for the next chapter in the spy story (For Your Eyes Only) and finally named for one of his characters, Milton. Krest. , after drinking the tonic and ginger drink he tasted during his stay.
The capital of the Seychelles, Victoria, is the smallest capital in the world. You can explore the entire city on foot in less than a day. Many celebrities choose to vacation in this iconic country and enjoy its beautiful private islands. Prince William and Kate Middleton, now Duchess of Cambridge, spent their honeymoon on the North Island of the Seychelles, a location previously chosen by David and Victoria Beckham.
A Seychelles giant tortoise named Jonathan is the oldest known land animal in the world. Jonathan was born in the Seychelles in 1832, but was later moved to Saint Helena, a British Overseas Territory, in 1882.
It is believed that the island of Moyenne, located on the island of Ste. Anne Marine National Park has buried the treasure, but no one dares to approach it because it is believed that the island is haunted by a spirit that guards it.
Almost half of the country's limited area is occupied by national parks and reserves. This supports various government policies aimed at protecting and conserving the environment and ecosystems.
Seychelles International Airport is located on the outskirts of Victoria and accepts flights from all over the world. There is a direct flight to Seychelles from Mumbai via Air Seychelles. Flights with multiple stops in between are available from most major cities in the country through airlines such as Etihad, Kenya Airways and Sri Lankan Airlines.