Pakistan | History, Capital, Language, Flag, Facts & Geography of Pakistan
Information about Pakistan:
| | |
| --- | --- |
| Capital | Islamabad |
| Population | 240,485,658 (Source: 2023 worldometer) |
| Major Cities | Karachi, Lahore, Peshawar, Faisalabad, Multan, Gujranwala, Quetta, Hyderabad, Sialkot |
| Borders | Iran to the west, Afghanistan to the northwest and north, China to the northeast, and India to the east and southeast |
| Gross Domestic Product (GDP) | $376,533,000,000 (2022 worldometer) |
| Currency | Pakistani rupee (PKR) |
Flag of Pakistan: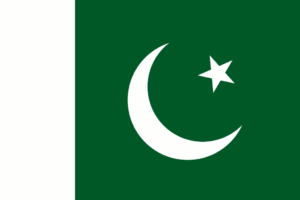 Flag description: The Pakistani flag was approved on August 11, 1947. It has a left-hand white stripe (the hoist side) and a dark green background (the field). A white star and a white crescent can be seen inside the green field. A common name for the flag is "Flag of the Crescent and Star." Progress and starlight are represented by the crescent. Islam is represented by the color green.
Pakistan Economy Key Industries:
Pakistan Major Industries: textiles and apparel, food processing, pharmaceuticals, construction materials, paper products, fertilizer, shrimp
Pakistan Agricultural Products: cotton, wheat, rice, sugarcane, fruits, vegetables; milk, beef, mutton, eggs
Pakistan Natural Resources: land, extensive natural gas reserves, limited petroleum, poor quality coal, iron ore, copper, salt, limestone
Pakistan Major Exports: textiles (garments, bed linen, cotton cloth, yarn), rice, leather goods, sports goods, chemicals, manufactures, carpets and rugs
Pakistan Major Imports: petroleum, petroleum products, machinery, plastics, transportation equipment, edible oils, paper and paperboard, iron and steel, tea 
Major Landforms of Pakistan : Indus River Valley, Hindu Kush Mountains, Karakoram Mountains, Pamir Mountains, K2, Balochistan Plateau, Thar Desert, Cholistan Desert
Major Bodies of Water: Indus River, Jhelum River, Ravi River, Kabul River, Manchar Lake, Keenjhar Lake, Gulf of Oman, Arabian Sea
Famous Places of Pakistan : Jinnah Mausoleum, Minaret of Pakistan, Badshahi Mosque, Lahore Fort, Rani Kot Fort, Hingol National Park, Pir Shohawa, Concordia, K2 Mountain, Trango Towers, Port Grand, Tomb of Jahangir, Mohenjo-daro
The Geography of Pakistan:
Total Size of Pakistan: 331,690 km² (source: wikipedia)
Geographical Low Point of Pakistan: Indian Ocean 0 m

Geographical High Point of Pakistan: K2 (Mt. Godwin-Austen) 8,611 m
Climate of Pakistan: mostly hot, dry desert; temperate in northwest; arctic in north
General Terrain of Pakistan: flat Indus plain in east; mountains in north and northwest; Balochistan plateau in west
World Region or Continent of Pakistan:  Asia

Geographical Coordinates: 30 00 N, 70 00 E
The People of  Pakistan & Culture
Pakistan Government Type: federal republic
Pakistan Nationality: Pakistani(s)
Pakistan National Holiday: Republic Day, 23 March (1956)
Pakistan Independence: 14 August 1947 (from UK)
Pakistan National Symbol:
Animal – Markhor, snow leopard
Bird – Chukar
Aquatic mammal – Indus River dolphin
Reptile – Mugger crocodile
Fish – Golden mahasher
Amphibian – Indus Valley toad
Tree – Deodar tree
National icon – Shaheen falcon
Motto – Faith, unity, discipline
Pakistan National Anthem or Song: Qaumi Tarana (National Anthem)
Pakistan Languages Spoken: Punjabi 48%, Sindhi 12%, Siraiki (a Punjabi variant) 10%, Pashtu 8%, Urdu (official) 8%, Balochi 3%, Hindko 2%, Brahui 1%, English (official and lingua franca of Pakistani elite and most government ministries), Burushaski, and other 8%
Pakistan Religions: Muslim 97% (Sunni 77%, Shi'a 20%), Christian, Hindu, and other 3%
Interesting Facts about Pakistan:
Pakistan became the first Islamic country to possess nuclear power.
Pakistan has the world's largest canal-based irrigation system.
Pakistan has the largest ambulance network in the world. The Edhi Foundation in Pakistan, which is listed in the Guinness Book of World Records, is in charge of running the network.
Pakistan means "Country of the Pure" in both Persian and Urdu.
There have only been two Pakistanis to win the Nobel Prize. Abdus Salam in 1979 for Physics and Malala Yousafzai in 2014 for Peace.
Around 17 million people live in Karachi, which is also the financial hub of Pakistan. There is also a significant harbor at the moment. Karachi served as Pakistan's first capital upon its independence until 1958, when Rawalpindi was selected as the replacement location.
India and Pakistan were emancipated at midnight on August 14 and 15, 1947. The Indian Independence Act stipulates that "Two independent Dominions shall be established in India as of the fifteenth day of August, nineteen hundred and forty-seven, to be known respectively as India and Pakistan."
Pakistan was governed by Queen Elizabeth II from 1952 to 1956. In addition, Barack Obama, a former president of the United States, visited Pakistan in 1981.
Sugarcane juice is the national beverage of Pakistan. In Pakistan, it is sometimes referred to as "roh".
Pakistan levies a 5% advance tax on annual spending for higher education, but only if such costs reach more than Rs 200,000 in a given year.
K-2 (Chagori) is the name of both the second-highest mountain in the world and the highest mountain peak in Pakistan.
One of the earliest civilizations ever discovered, Mehrgarh was situated in Pakistan and dates back to 6000 B.C. Today, Mehrgarh is thought to have predated the Indus Valley Civilization. One of the first places in South Asia where evidence of cultivation and herding may be found.
A unique type of dolphin known as the "Blind Dolphin" lives in the water of the Indus River. The Yangtze River dolphin, which is "functionally extinct," is the other freshwater dolphin species that is most in risk of going extinct globally.
Pakistan appointed the youngest civil judge in the entire globe. Mohammed Ilyas, the world's youngest civil judge, passed the test at the age of 20 years and 9 months.
The "Khewra Salt Mine" is the second-largest and oldest salt mine in the world, and it is situated in Pakistan.
On the list of interesting facts about Pakistan, this is one of the most astounding. The only other fertile desert in the world is in Sindh province's Tharparkar Desert.
Pakistan's military is the eleventh largest in the world in terms of size. There are 617,000 personnel in the army. Significant contributions are made by the Pakistani army to UN peacekeeping operations.
Islamabad, the capital of Pakistan, has 1,014,825 inhabitants as of 2022. Islamabad was formally designated as the nation's capital on August 14, 1967, exactly 20 years after Pakistan gained its independence.
Pakistan's air force has some of the top pilots in the world.
Afghanistan, Iran, India, and China all have land borders with Pakistan.