Israel | History, Capital, Language, Flag, Facts & Geography of Israel
Information about Israel:
| | |
| --- | --- |
| Capital | Jerusalem |
| Population | 9,174,520 (Source: 2023 worldometer) |
| Major Cities | Jerusalem, Tel Aviv, Haifa, Rishon LeZiyyon, Petah Tikva, Netanya, Ashdod, Bnei Brak, Holon |
| Borders | North by Lebanon, to the northeast by Syria, to the east and southeast by Jordan, to the southwest by Egypt, and to the west by the Mediterranean Sea |
| Gross Domestic Product (GDP) | $522,033,000,000 (2022 worldometer) |
| Currency | new Israeli shekel (ILS); note – NIS is the currency abbreviation; ILS is the International Organization |
Flag of Israel: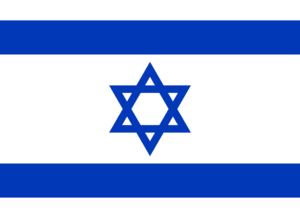 Flag description: On October 28, 1948, Israel adopted its current flag. There are two blue horizontal stripes at the top and bottom of the white background (field). A blue Star of David appears in the middle of the flag. The Star of David symbolizes Judaism, and the stripes are those found on the tallit, a Jewish prayer shawl.
Israel Economy Key Industries:
Israel Major Industries: high-technology projects (including aviation, communications, computer-aided design and manufactures, medical electronics, fiber optics), wood and paper products, potash and phosphates, food, beverages, and tobacco, caustic soda, cement, construction, metals products, chemical products, plastics, diamond cutting, textiles, footwear
Israel Agricultural Products: citrus, vegetables, cotton; beef, poultry, dairy products
Israel Natural Resources: timber, potash, copper ore, natural gas, phosphate rock, magnesium bromide, clays, sand
Israel Major Exports: machinery and equipment, software, cut diamonds, agricultural products, chemicals, textiles and apparel
Israel Major Imports: raw materials, military equipment, investment goods, rough diamonds, fuels, grain, consumer goods
The Geography of Israel:
Total Size of Israel: 22,145 km² (source: wikipedia)
Geographical Low Point of Israel: Dead Sea -408 m

Geographical High Point of Israel: Har Meron 1,208 m
Climate of Israel: Temperate; hot and dry in southern and eastern desert areas

General Terrain of Israel: Negev desert in the south; low coastal plain; central mountains; Jordan Rift Valley
World Region or Continent of Israel: Middle East

Geographical Coordinates: 31 30 N, 34 45 E
Major Landforms of Israel: Negev Desert, Judean Desert, Judean Hills, Israeli Coastal Plain, Mount Carmel, Jezreel Valley, Hula Valley, Galilean Hills, Mount Herman, Mount Meron
Major Bodies of Water: Jordan River, Dan River, Yarmouk River, Sea of Galilee, Lake Hula, Dead Sea, Red Sea, Mediterranean Sea
Famous Places of Israel: 
Jerusalem,
Masada,
Western Wall,
Sea of Galilee,
Temple Mount,
Church of the Holy Sepulchre,
Mount of Olives,
Tower of David,
Gethsemane,
Church of the Nativity,
Dead Sea,
Yad Vashem Holocaust Museum,
Caesarea National Park,
Dome of the Rock
The People of  Israel & Culture
Israel Government Type: parliamentary democracy
Israel Nationality: Israeli(s)
Israel National Holiday: Independence Day, 14 May (1948); note – Israel declared independence on 14 May 1948, but the Jewish calendar is lunar and the holiday may occur in April or May.
Other Holidays of Israel: 
Rosh Hashanah,
Yom Kipper,
Sukkot,
Simchat Torah,
Hanukkah,
Fast of Esther,
Passover,
Independence Day,
Feast of Weeks, Purim
Israel Independence: 14 May 1948 (from League of Nations mandate under British administration)
Israel National Symbol:
Animal – Gazelle

Bird – Hoopoe

Tree – Olive tree

Flower – Anemone

Dog – Canaan dog

Colors – Blue and white

Coat of Arms – A shield with a blue background, a Menorah in the center and two olive branches on each side.

Other symbols – Menorah, Star of David
Israel National Anthem or Song: Hatikvah (The Hope)
Israel Languages Spoken: Hebrew (official), Arabic used officially for Arab minority, English most commonly used foreign language
Israel Religions: Jewish 76.4%, Muslim 16%, Arab Christians 1.7%, other Christian 0.4%, Druze 1.6%, unspecified 3.9% (2004)
Interesting Facts about Israel:
Altruistic kidney donations per capita are highest in Israel, where 1,005 have been made during the previous 11 years and counting.
Jujube trees, which are believed to be between 1,500 and 2,000 years old, can be found in Ein Hatzeva on the way to Eilat and are the oldest trees in Israel.
From seeds discovered at Masada and Qumran in the sixth century, Israeli scientists were able to produce fresh dates.
For all of the letters addressed to God that arrive in Jerusalem from all over the world, the Israel Postal Service has a dedicated Letters to God section. They are opened and inserted into the Western Wall's crevices.
The Western Wall receives about 1 million messages each year.
An antique wooden ladder has been leaning against a window of the Church of the Holy Sepulchre since the 18th century. The building is run by six different churches, and none of them can agree on who owns the ladder, so no one can move it.
Israel is the only nation to have brought a dead language back to life and declared it its national tongue.
At Kibbutz Tirat Zvi in the northern Jordan Valley, the highest temperature ever recorded in Israel was 54 degrees Celsius (129.2 Fahrenheit) in 1942. (Death Valley, California, in 1913, recorded the world's highest temperature, 56.7 °C.)
Israel has an Olympic bobsled and skeleton squad despite having more than half of its area covered in desert.
Both the percentage of the total population that has gotten at least one dose of the Covid-19 vaccine and the number of immunization doses delivered per 100 individuals in the entire population place Israel far ahead of the rest of the globe.
The first nation to send medical clowns into Covid-19 wards was Israel, a world leader in the field of medical clowning.
Businesswoman Shari Arison from Israel created Good Deeds Day in 2007 to promote interdependence. 7,000 people participated in Israel during that year. 3.9 million individuals participated in 108 nations worldwide in 2019.
In order to assist lifeguards in protecting swimmers on beaches and providing real-time data on wind, waves, and other potential hazards, Israel is testing a new locally designed AI system.
Israel is the world leader in water recycling since it recycles 90% of the waste water it produces. Only 1% of wastewater in the United States gets recycled.
The largest sock mosaic in the world was produced in July 2012 by a group of artists in Netanya, who used 12,000 socks in total. (Thank goodness, they are all clean.)
The average milk production of cows in Israel is higher than that of dairy cows in other nations.