Gaza Strip | History, Capital, Language, Flag, Facts & Geography of Gaza Strip
History of Gaza Strip:
Between Egypt and Israel, there is the Gaza Strip. Only 25 miles long and 5 miles wide, roughly. After the 1948 Arab-Israeli War, refugees from Israel became the first inhabitants of the region.
The Gaza Strip is currently one of the geographical regions that make up the Palestinian territory. Hamas is in charge of the Gaza Strip. Following the Battle of Gaza and the 2006 Palestinian parliamentary elections, they have been in power.
Information about Gaza Strip:
| | |
| --- | --- |
| Capital | |
| Population | 2 million (Source: 2022 wikipedia) |
| Major Cities | Jabalia, Gaza City (Ghazzah), Khan Yunis, Rafah |
| Borders | Egypt on the southwest for 11 km (6.8 mi) and Israel on the east and north along a 51 km (32 mi) border |
| Gross Domestic Product (GDP) | $19,111,900,000 (2022 worldometer) |
| Currency | new Israeli shekel (ILS) |
Flag of Gaza Strip: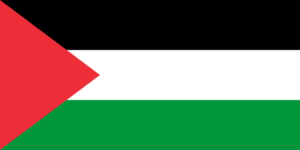 Gaza Strip Economy Key Industries:
Gaza Strip Major Industries: generally small family businesses that produce textiles, soap, olive-wood carvings, and mother-of-pearl souvenirs; the Israelis have established some small-scale modern industries in an industrial center, but operations ceased prior to Israel's evacuation of Gaza Strip settlements
Gaza Strip Agricultural Products: olives, citrus, vegetables; beef, dairy products
Gaza Strip Natural Resources: arable land, natural gas
Gaza Strip Major Exports: citrus, flowers, textiles
Gaza Strip Major Imports: food, consumer goods, construction materials
The Geography of Gaza Strip:
Total Size of Gaza Strip:  365 km2 (source: wikipedia)
Geographical Low Point of Gaza Strip: Mediterranean Sea 0 m

Geographical High Point of Gaza Strip: Abu 'Awdah (Joz Abu 'Auda) 105 m
Climate of Gaza Strip: Temperate, mild winters, dry and warm to hot summers

General Terrain of Gaza Strip: flat to rolling, sand- and dune-covered coastal plain
World Region or Continent of Gaza Strip: Middle East

Geographical Coordinates: 31 25 N, 34 20 E
The People of  Gaza Strip & Culture
Gaza Strip Government Type: 
Gaza Strip Nationality: 
Gaza Strip National Holiday: 
Gaza Strip Independence: 
Gaza Strip National Symbol: 
Gaza Strip National Anthem or Song: 
Gaza Strip Languages Spoken: Arabic, Hebrew (spoken by many Palestinians), English (widely understood)

Gaza Strip Religions: Muslim (predominantly Sunni) 98.7%, Christian 0.7%, Jewish 0.6%
Interesting Facts about Gaza Strip:
With the exception of the years 1949–1967, movement inside the region of "mandatory Palestine," presently divided into the Gaza Strip, the West Bank, and Israel, was mostly unrestricted throughout history. Israel started limiting this route in the 1990s.
Israel permits over 4,000 Palestinians from Gaza to enter the West Bank and Israel via the Erez crossing each month. In comparison, there were more than 500,000 entries in September 2000.
In the Oslo Accords, which were signed by Israel and the Palestine Liberation Organization (PLO) with the participation of the United States and Russia as witnesses, the Gaza Strip and the West Bank were acknowledged as being a single territorial unit. Residents of Palestine are guaranteed a right under international human rights law to travel throughout the Palestinian area and to decide where they will live there.
The population registration, which is run by Israel, includes Palestinian residents of the Gaza Strip and the West Bank. The Palestinian Authority notifies the Israeli army of any births of Palestinian children, whether they take place in Ramallah or Gaza City, and the Israeli army then confirms the issuance of new identification numbers.
There have been two Palestinian governments operating concurrently since Hamas seized power in the Gaza Strip in June 2007: one in Ramallah, West Bank, and the other in Gaza. The Ramallah government, which still has personnel working in the Gaza Strip, coordinates the flow of people and products between Gaza, Israel, and the West Bank.
In addition to granting specific licenses, Israel let approximately 12,000 people of Gaza to cross the "Safe Passage" between Gaza and the West Bank each month during 1999 and 2000.
More than 85% of the commodities carried out of Gaza were sold in these regions, predominantly in Israel, before Israel banned the sale of goods from Gaza in Israel and the West Bank in June 2007.
The whole Palestinian population is served by the Palestinian civil society, which operates in both Gaza and the West Bank. Both regions of the area are home to branches of large organizations.