East Timor | History, Capital, Language, Flag, Facts & Geography of East Timor
History of East Timor:
The Democratic Republic of Timor-Leste is the official name for East Timor. The island of Timor's eastern half is occupied by the nation. Portuguese and Dutch traders arrived in East Timor as the first Europeans around 1500. They started to develop outposts and local military might throughout time. Both the Dutch and the Portuguese fought for control of the territory until they ultimately chose to divide it, giving Portugal ownership of the eastern half, which is now East Timor, in 1906.
Japan seized the nation during World War II, but after the war it once more became a Portuguese territory. When Portugal chose to leave East Timor in 1974, Indonesia, a neighboring country, quickly invaded. As rebels attempted to repel the Indonesian invasion, the following few years were rife with struggle and upheaval in the nation. The bloodshed was finally put an end in 1999 when an Australian-led peacekeeping force invaded the nation. In 2002, East Timor, now known as Timor-Leste, attained independence.
Information about East Timor (Timor-Leste):
| | |
| --- | --- |
| Capital | Dili |
| Population | 1,360,596 (Source: 2023 worldometer) |
| Major Cities | Dili, Maliana, Suai, Likisá, Aileu, Lospalos, Maubara, Baucau, Venilale, Ainaro, Gleno |
| Borders | International borders with Indonesia and maritime borders with Australia |
| Gross Domestic Product (GDP) | $3,163,324,631 (2022 worldometer) |
| Currency | US dollar (USD) |
Flag of East Timor (Timor-Leste):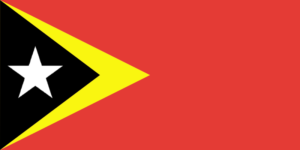 East Timor (Timor-Leste) Economy Key Industries:
East Timor Major Industries: printing, soap manufacturing, handicrafts, woven cloth
East Timor Agricultural Products: coffee, rice, corn, cassava, sweet potatoes, soybeans, cabbage, mangoes, bananas, vanilla
East Timor Natural Resources: gold, petroleum, natural gas, manganese, marble
East Timor Major Exports: coffee, sandalwood, marble; note – potential for oil and vanilla exports
East Timor Major Imports: food, gasoline, kerosene, machinery

The Geography of East Timor (Timor-Leste):
Total Size of East Timor: 14,874 square kilometres (source: wikipedia)
Geographical Low Point of East Timor: Timor Sea, Savu Sea, and Banda Sea 0 m

Geographical High Point of East Timor: Foho Tatamailau 2,963 m
Climate of East Timor: Tropical; hot, humid; distinct rainy and dry seasons
General Terrain of East Timor:  mountainous
World Region or Continent of East Timor:  Southeast Asia

Geographical Coordinates: 8 50 S, 125 55 E
The People of  East Timor (Timor-Leste) & Culture
East Timor Government Type: republic
East Timor Nationality: Timorese
East Timor National Holiday: Independence Day, 28 November (1975)
East Timor Independence: 28 November 1975 (date of proclamation of independence from Portugal); note – 20 May 2002 is the official date of international recognition of East Timor's independence from Indonesia

East Timor National Symbol: 
East Timor National Anthem or Song: Patria (Fatherland)
East Timor Languages Spoken: Tetum (official), Portuguese (official), Indonesian, English
East Timor Religions: Roman Catholic 90%, Muslim 4%, Protestant 3%, Hindu 0.5%, Buddhist, Animist (1992 est.)
Interesting Facts about East Timor (Timor-Leste):
In 2007, the nation of East Timor adopted its coat of arms, and on November 28, 1975, the nation's flag was first formally adopted.
The capital of Timor-Leste is Dili.
Timor-Leste was the first new country of the twenty-first century.
There are some of the most biodiverse seas in the world around Timor-Leste.
East Timor (Timor-Leste) is an island nation bordering Indonesia in Southeast Asia.
East Timor initially formally declared its independence from Portugal in 1975.
A sea area in the western Pacific that is home to more than 600 different species of coral, almost all of which are reef-forming, is where East Timor is located.
More than 2,000 types of reef fish and six of the seven species of sea turtles can be found in East Timur.
At least 22 species of cetaceans, which include whales, dolphins, and porpoises, have been found in the waters around East Timor.
The main four languages spoken in East Timor are Tetun, Portuguese, Indonesian, and English.
The waters off East Timor also contain sacred dugong fish.
East Timor is one of just two countries in Southeast Asia with a sizable Christian population.
East Timor is a popular tourist destination thanks to the Indonesian government's 1996 donation of the 27 m (89 ft) tall statue of Jesus Christ.
The beaches in this city will appeal to sun lovers. The beaches at Back Beach and Areia Branca are popular with vacationers and locals alike.
The Tour de Timor is held in East Timor. It is the location of the most difficult mountain bike race in the world.
East Timor boasts its own unique blend of coffee that would please even casual drinkers.
The sole national park in the nation is Nino Conis Santana Park. Those who enjoy wildlife should keep an eye out for deer, possums, monkeys, turtles, and a variety of birds.
On April 14, 2002, East Timor had its first presidential election, which independence hero and former guerrilla leader Xanana Gusmao won by defeating all rivals.
The US dollar is used as East Timor's national currency.
At least 90% of East Timorese identify as Roman Catholics.
Only Indonesia and East Timor, usually referred to as Timor-Leste, share a land border.