Cyprus | History, Capital, Language, Flag, Facts & Geography of Cyprus
History of Cyprus:
Cyprus is a nation that occupies an island in the Mediterranean Sea. The island was situated in a prime area between several Eastern and Western empires. As a result, throughout its history, the island was a part of a number of outstanding ancient civilizations, including Ancient Egypt, Persia, Ancient Greece, and the Roman Empire. The Byzantine Empire ruled over Cyprus for 800 years, beginning in 364 AD.
The island had a series of ownership changes beginning in the 12th century and continuing through the 1500s before falling under Ottoman rule. The island was seized by Great Britain in 1878, and in 1925 it was designated as a British colony formally.
1960 Cyprus became independent of the British Empire. However, the nation's various factions were unable to coexist. Cyprus has been separated into two parts since 1974. Turkish Cypriots control one side, while the government controls the other. Turkish is spoken in the north, whereas Greek is spoken in the south. The UN maintains a peacekeeping presence in the area that serves as a buffer between the two sides. Despite this peculiar circumstance, Cyprus joined the European Union in 2004.
Information about Cyprus:
| | |
| --- | --- |
| Capital | Nicosia (Lefkosia) |
| Population | 1,261,685 (Source: 2023 worldometer) |
| Major Cities | Nicosia (Lefkosia) (capital), Limassol, Larnaca, Paphos, Strovolos, Aglantzia, Paralimni, Famagusta, Athienou |
| Borders | North of Egypt, east of Greece, south of Turkey, and west of Lebanon and Syria |
| Gross Domestic Product (GDP) | $28,439,052,741 (2022 worldometer) |
| Currency | Republic of Cyprus: Cypriot pound (CYP); Turkish Cypriot area: Turkish New lira (YTL) |
Flag of Cyprus: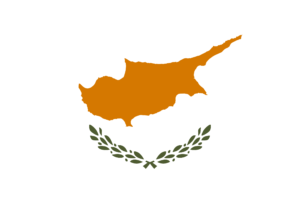 Cyprus Economy Key Industries:
Cyprus Major Industries: tourism, food and beverage processing, cement and gypsum production, ship repair and refurbishment, textiles, light chemicals, metal products, wood, paper, stone, and clay products
Cyprus Agricultural Products: citrus, vegetables, barley, grapes, olives, vegetables; poultry, pork, lamb; dairy, cheese
Cyprus Natural Resources: copper, pyrites, asbestos, gypsum, timber, salt, marble, clay earth pigment
Cyprus Major Exports: Republic of Cyprus: citrus, potatoes, pharmaceuticals, cement, clothing and cigarettes; north Cyprus: citrus, potatoes, textiles
Cyprus Major Imports: Republic of Cyprus: consumer goods, petroleum and lubricants, intermediate goods, machinery, transport equipment; north Cyprus: vehicles, fuel, cigarettes, food, minerals, chemicals, machinery
The Geography of Cyprus:
Total Size of Cyprus: 9,251 km2 (source: wikipedia)
Geographical Low Point of Cyprus: Mediterranean Sea 0 m

Geographical High Point of Cyprus: Mount Olympus 1,951 m
Climate of Cyprus: Temperate; Mediterranean with hot, dry summers and cool winters
General Terrain of Cyprus: central plain with mountains to north and south; scattered but significant plains along southern coast
World Region or Continent of Cyprus: Middle East

Geographical Coordinates: 35 00 N, 33 00 E
The People of  Cyprus & Culture
Cyprus Government Type: republic
Cyprus Nationality: Cypriot(s)
Cyprus National Holiday: Independence Day, 1 October (1960); note – Turkish Cypriots celebrate 15 November (1983) as Independence Day

Cyprus Independence: 16 August 1960 (from UK); note – Turkish Cypriots proclaimed self-rule on 13 February 1975 and independence in 1983, but these proclamations are only recognized by Turkey
Cyprus National Symbol: Cypriot mouflon (wild sheep); white dove
Cyprus National Anthem or Song: Ymnos eis tin Eleftherian (Hymn to Liberty)
Cyprus Languages Spoken: Greek, Turkish, English
Cyprus Religions: Greek Orthodox 78%, Muslim 18%, Maronite, Armenian Apostolic, and other 4%
Interesting Facts about Cyprus:
Cyprus is the third-largest and third-most populous island in the Mediterranean.
The world's oldest wine label is located in Cyprus. "Commandaria," the oldest wine in the world with a name, has been produced for more than 5000 years.
Out of the 1950 species of flowering plants discovered worldwide, 140 are found in Cyprus.
The distinctive Cyprus Moufflon sheep is unique throughout the globe.
More than 300 days of sunshine fall on Cyprus each year.
The Neolithic settlement of Choirokoitia on Cyprus is one of the most important Neolithic sites in Europe.
Every autumn, 10,000 flamingos stop in the Larnaca Salt Lake for a brief feeding break on their way south.
One of the most popular tourist sites on the island of Cyprus is the town of Paphos.
People who enjoy history would be delighted to know that Paphos has a sizable outdoor museum.
Legend has it that in the fourteenth century, the celebrated Leonardo da Vinci of the Mona Lisa and Château de Chambord traveled to the charming town of Pano Lefkara.
Legend has it that the great painter personally visited the village to purchase lace for the altar in the Duomo di Milano (Milan Cathedral).
Cyprus, usually referred to as the Republic of Cyprus, is an island country in the Mediterranean Sea.
Two nations are the first in the world to display their maps on their flags, along with Cyprus.
One of the amazing foods Protaras has to offer is halloumi, also referred to as the miracle cheese. Most people agree that this dish represents traditional Cypriot cuisine. Halloumi is authentic, with flavors combining Mediterranean and Middle Eastern influences. It is typically served chilled, grilled, or fried. A vegetarian option is also available, although it barely melts.
In the spring, wildflower enthusiasts visit northern Cyprus. The Akamas Peninsula National Park's steep and forested regions are home to an abundance of rare orchid species.
The Ammochostos municipality of Paralimni contains Fig Tree Bay, one of the best Blue Flag beaches in all of Europe. Its waters and golden dunes are thought to be the cleanest in all of Europe.
Only four EU countries allow driving on the left side of the road, including this one.
Nocosia, the capital of Cyprus, is split between the "Independent Republic of Cyprus" (also known as "Greek Cyprus") and the "Turkish Republic of Northern Cyprus" by the fabled "Green Line." Depending on where they are from on the island, people are referred to either Greek Cypriots or Turkish Cypriots. Greek and Turkish are the two primary languages spoken on the island.
Cyprus' official currency is the euro.
Speaking about cats, Cyprus is known as the "Island of Cats" because, based on estimates, it has a greater population of felines than humans.
Sirtos is the most well-known traditional dance on the island of Cyprus.
Ophiussa, which translates to "the Abode of Snakes," was the name given to Cyprus in the past since the area was snake-rich. Like many other wild animals, they are now incredibly rare. The only sheep that has survived is a species of wild sheep called an agrino. There have also been discoveries of fossilized elephant and hippopotamus remains. It is also known that Cyprus once supported a deer and wild boar population.
The island nation of Cyprus is situated in the Eastern Mediterranean. The Republic of Cyprus, which governs the southern two-thirds of the island, and the Turkish Republic of Northern Cyprus, which governs the northern third, are its two primary divisions. International recognition is accorded to the Republic of Cyprus as the island's legitimate government, although only Turkey recognizes the northern portion.
Northern Cyprus and Cyprus are bordered by land. Cyprus shares maritime borders with several Eastern Mediterranean neighbors. Turkey to the north, Lebanon to the east, and Egypt to the southeast are its sea neighbors.