Brunei | History, Capital, Language, Flag, Facts & Geography of Brunei
History of Brunei:
The Brunei Sultanate and the Brunei Empire ruled over Brunei throughout the majority of its recorded existence. The fifteenth, sixteenth, and seventeenth centuries saw the empire at its height of grandeur. That period saw the ascension of two strong Sultans. Bolkiah was the first to expand the empire, and Hassan was the second, developing most of the current system of governance.
The English started to have an influence on the country's operations in the 1800s. James Brooke, an explorer, arrived first. He aided the Sultan in suppressing a revolt in 1839. He received leadership and governorship in the northwest as payment. Later, the region would begin to come under the jurisdiction of the British North Borneo Company. The British established Brunie as a protectorate in 1888. Up until its independence on January 1, 1984, Brunie remained a British territory.
Due to the export of natural gas and oil, Brunei is now a small but extremely affluent nation.
Information about Brunei:
Capital
Bandar Seri Begawan
Population

452,524 (Source: 2023 worldometer)

Major Cities
Bandar Seri Begawan, the capital of Brunei; Kuala Belait, a town and capital of Belait District; 

Seria

, a town also in Belait District; and Tutong, the town of 

Tutong District

Borders
bordered to all sides by the Malaysian state of Sarawak
Gross Domestic Product (GDP)

$16,681,531,646 (2022 worldometer)

Currency

Bruneian dollar (BND)
Flag of Brunei: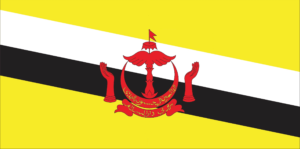 Brunei Economy Key Industries:
Brunei Major Industries:  petroleum, petroleum refining, liquefied natural gas, construction
Brunei Agricultural Products: rice, vegetables, fruits; chickens, water buffalo, eggs
Brunei Natural Resources: petroleum, natural gas, timber

Brunei Major Exports: crude oil, natural gas, refined products
Brunei Major Imports: machinery and transport equipment, manufactured goods, food, chemicals

The Geography of Brunei:
Total Size of Brunei: 5,765 km2 (source: wikipedia)
Geographical Low Point of Brunei: South China Sea 0 m

Geographical High Point of Brunei: Bukit Pagon 1,850 m
Climate of Brunei: Tropical; hot, humid, rainy
General Terrain of Brunei: flat coastal plain rises to mountains in east; hilly lowland in west

World Region or Continent of Brunei:  Southeast Asia

Geographical Coordinates: 4 30 N, 114 40 E
The People of  Brunei & Culture
Brunei Government Type: constitutional sultanate
Brunei Nationality: Bruneian(s)
Brunei National Holiday: National Day, 23 February (1984); note – 1 January 1984 was the date of independence from the UK, 23 February 1984 was the date of independence from British protection

Brunei Independence: 1 January 1984 (from UK)
Brunei National Symbol: 
Brunei National Anthem or Song: Allah Peliharakan Sultan (God Bless His Majesty)

Brunei Languages Spoken: Malay (official), English, Chinese
Brunei Religions: Muslim (official) 67%, Buddhist 13%, Christian 10%, indigenous beliefs and other 10%

Interesting Facts about Brunei:
On the Southeast Asian island of Borneo, there lies a tiny sovereign nation known as Brunei. Its northern and southern borders are with Malaysia, and its western and eastern borders are with the South China Sea.
With a total land size of about 5,765 square kilometers, Brunei is among the smallest nations in the world.
The Sultan of Brunei is the supreme head of state and government of this monarchy. Hassanal Bolkiah, who has been in charge since 1967, is the current sultan.
In Brunei, there are about 459,500 people living.
The Brunei dollar is the country's official currency, and Malay is its official language.
Brunei, where Islam is the major religion, upholds a stringent application of Sharia law.
Only Brunei and Bhutan still maintain absolute monarchs as their form of governance in Asia.
The largest residential palace in the world, according to the Guinness Book of World Records, is the Istana Nurul Iman Palace in Brunei.
The Bruneian ruler enjoys opulent living arrangements. The Insider claims that the sultan has 500 opulent Rolls-Royce vehicles, a vast mansion with 1,788 rooms, and spends a lot of money on $20,000 every haircut.
From 1888 to 1963, the British provided protection for Brunei, but in that year it gained complete independence.
Japan occupied Brunei during the Second World War from 1941 until 1945.
Some of the most beautiful mosques in the world may be found in Brunei.
According to the law, marriages between Muslims and Christians are prohibited.
After Singapore, Brunei has the second-lowest level of corruption in the area.
Southeast Asia's third-largest oil production is Brunei.
The majority of the beef consumed in Brunei is imported from Australia.
Citizens of Brunei are entitled to free medical care and education.
Despite the importance of Malay customs, Islam is the most significant aspect of Bruneian culture.