Benin | History, Capital, Language, Flag, Facts & Geography of Benin
History of Benin:
Before the 15th century, Benin was mainly inhabited by small tribes. However, in the 15th century, the African kingdom of Danhomey emerged. Dunhomey was still growing when Europeans arrived in the 18th century. They traded with Friends, Dutch and Portuguese. Dunhomey was a war-centered kingdom where captives were killed or sold as slaves to Europeans in exchange for weapons.
Benin then became a French colony in the early 20th century. In 1958 it became self-governing within the French community and was given the name Republic of Dahomey. A few years later she became a fully independent country in 1960 as the Republic of Benin.
Information about Benin:
| | |
| --- | --- |
| Capital | Porto-Novo |
| Population | 13,777,370 (Source: 2023 worldometer) |
| Major Cities | Porto-Novo (capital), Cotonou, Parakou, Abomey, Djougou, Bohicon, Kandi, Natitingou |
| Borders | Togo to the west, Nigeria to the east and Burkina Faso and Niger to the north |
| Gross Domestic Product (GDP) | $17,401,746,309 (2022 worldometer) |
| Currency | Communaute Financiere Africaine franc (XOF); note – responsible authority is the Central Bank of the |
Flag of Benin: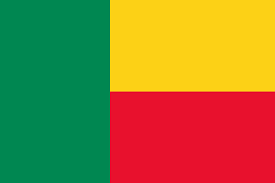 Benin Economy Key Industries:
Benin Major Industries: textiles, food processing, construction materials, cement
Benin Agricultural Products:  cotton, corn, cassava (tapioca), yams, beans, palm oil, peanuts; livestock
Benin Natural Resources: small offshore oil deposits, limestone, marble, timber
Benin Major Exports: cotton, crude oil, palm products, cocoa
Benin Major Imports: foodstuffs, capital goods, petroleum products
The Geography of Benin:
Total Size of Benin: 114,763 km² (source: wikipedia)
Geographical Low Point of Benin: Atlantic Ocean 0 m
Geographical High Point of Benin: Mont Sokbaro 658 m
Climate of Benin: Tropical; hot, humid in south; semiarid in north
General Terrain of Benin: mostly flat to undulating plain; some hills and low mountains
World Region or Continent of Benin: Africa
Geographical Coordinates: 9 30 N, 2 15 E
The People of  Benin & Culture
Benin Government Type: republic
Benin Nationality:  Beninese (singular and plural)
Benin National Holiday: National Day, 1 August (1960)
Benin Independence: 1 August 1960 (from France)
Benin National Symbol: leopard
Benin National Anthem or Song:  L'Aube Nouvelle (The Dawn of a New Day)
Benin Languages Spoken: French (official), Fon and Yoruba (most common vernaculars in south), tribal languages (at least six major ones in north)
Benin Religions: indigenous beliefs 50%, Christian 30%, Muslim 20%
Interesting Facts about Benin:
Here are some important historical facts about Benin. The country served as a route for slave migration from Africa to Europe and America.
It stretches across the southern coastal regions of the country, and its coast was infamous. At that time, merchants maintained relationships with Europeans who came to buy ivory, gold and pepper. It created a platform for the slave trade.
The decline of the slave trade weakened Dahomey's status as a regional power. In 1892, France invaded the area and tried to seize control. In 1899 it was declared the "Dahome of France". They merged it with the vast expanses of French West Africa. After more than 50 years, in 1958 France granted autonomy to the French Dahomey. It became fully independent in 1969. Benin's National Day is August 1st.
Dangtukpa is a large open-air market located in the country. Most African countries have several cities with open-air markets, and Benin is no exception. The concept seems to be popular here, as almost every town in Benin has an open-air market. In fact, Dangtokpa is considered to be West Africa's largest international open-air market.
Benin's Penjari National Park is home to the largest living lions in West Africa. This national park is he one of the few sanctuaries for lions and elephants. Cheetahs, leopards, and many other big cats can be seen in the park. Please stop by when you travel.
Benin has its own Venice. Benin's Gambi is a UNESCO World Heritage Site. Home to over 20,000 people, it is considered Africa's largest sea village. People often refer to it as the Venice of Africa and it is a popular tourist attraction in Benin. The city was built on stilts over Lake Nokogami more than 500 years before him. Their original habitat was mostly runways to avoid being sold into slavery.