Samoa | History, Capital, Language, Flag, Facts & Geography of Samoa
History of Samoa:
Samoa is an island country in the South Pacific. People have lived here for thousands of years. The first settlers were immigrants from Southeast Asia. The first Europeans arrived in his 18th century, but did not settle until his 1830s.
In the early 20th century, the Samoan Islands were divided into two sections of her. The eastern half of the island became American territory. Today they are called American Samoa. The western islands became part of Germany and were called Western Samoa. In 1914 control of Western Samoa passed to New Zealand.
In 1962 the islands became a fully independent state. In 1997 the country changed its official name to the Independent State of Samoa. Formerly called Western Samoa, it is now commonly referred to simply as Samoa.
Information about Samoa:
| | |
| --- | --- |
| Capital | Apia |
| Population | 226,253 (Source: 2023 worldometer) |
| Major Cities | Apia (capital), Asau, Mulifanua, Faleula, Siusega, Malie, Fasito'outa, Vaiusu |
| Borders | no direct neighbors |
| Gross Domestic Product (GDP) | $832,421,565 (2022 worldometer) |
| Currency | tala (SAT) |
Flag of Samoa: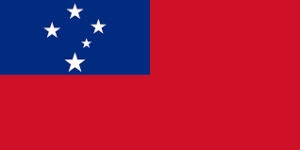 Samoa Economy Key Industries:
Samoa Major Industries: food processing, building materials, auto parts
Samoa Agricultural Products: coconuts, bananas, taro, yams, coffee, cocoa
Samoa Natural Resources: hardwood forests, fish, hydropower
Samoa Major Exports: fish, coconut oil and cream, copra, taro, automotive parts, garments, beer
Samoa Major Imports: machinery and equipment, industrial supplies, foodstuffs
The Geography of Samoa:
Total Size of Samoa: 2,831 km² (source: 2022 wikipedia)
Geographical Low Point of Samoa: Pacific Ocean 0 m
Geographical High Point of Samoa: Mauga Silisili (Savaii) 1,857 m
Climate of Samoa: Tropical; rainy season (November to April), dry season (May to October)
General Terrain of Samoa: two main islands (Savaii, Upolu) and several smaller islands and uninhabited islets; narrow coastal plain with volcanic, rocky, rugged mountains in interior
World Region or Continent of Samoa: Oceania
Geographical Coordinates: 13 35 S, 172 20 W
The People of  Samoa & Culture
Samoa Government Type: parliamentary democracy and constitutional monarchy
Samoa Nationality: Samoan(s)
Samoa National Holiday: Independence Day Celebration, 1 June (1962); note – 1 January 1962 is the date of independence from the New Zealand-administered UN trusteeship, 1 June 1962 is the date that independence is celebrated
Samoa Independence: 1 January 1962 (from New Zealand-administered UN trusteeship)
Samoa National Symbol: Southern Cross constellation (five, five-pointed stars)
Samoa National Anthem or Song: O le Fua o le Saolotoga o Samoa (The Banner of Freedom)
Samoa Languages Spoken: Samoan (Polynesian), English
Samoa Religions: Congregationalist 34.8%, Roman Catholic 19.6%, Methodist 15%, Latter-Day Saints 12.7%, Assembly of God 6.6%, Seventh-Day Adventist 3.5%, other Christian 4.5%, Worship Centre 1.3%, other 1.7%, unspecified 0.1% (2001 census)
Interesting Facts about Samoa:
Samoa is an Oceanian island nation made up of nine volcanic islands.
Her two islands, Savai'i and Upolu, alone make up more than 99% of his country's area, and about 95% of the population lives on these two islands.
Lapita village has the oldest evidence of human habitation in Samoa. Carbon studies dated the site to around 1000 BC. Part of the village lies within the lagoon of Upolu.
In 1722, the Dutch navigator Jakob Roggeveen became the first European to explore Samoa, although it has likely been unofficially visited by whalers, pirates and escaped prisoners.
Samoa was annexed by Germany in 1899, occupied by New Zealand in 1914, and ruled by New Zealand until independence.
In 1962, Western Samoa became the first Pacific island nation to become fully independent.
In 1997, Western Samoa changed its name to Samoa. The move caused some tension with American Samoa, as the change implied Western Samoa's authority over the Samoan Islands.
More than 100 star-shaped stone platforms have been discovered by Samoan archaeologists. Known as 'star mounds', these stands are believed to have been used for catching wild pigeons, a hobby of the Matai (Chief).
Samoa is the ninth most obese country in the world. 77% of him as an adult is believed to be overweight.
In 2009, Samoa became the first country in decades to officially switch from driving on the right to driving on the left. The change was made to bring Samoa on par with Australia and New Zealand, as it is cheaper to import cars into Samoa than from right-hand drive countries such as the US and Europe.
In 2011, Samoa (along with Tokelau) skipped December 30, a day earlier. Moving west of the International Date Line, Samoa is just one hour ahead of New Zealand and just three hours ahead of eastern Australia, both not nearly a day behind.
So Samoa is only 164 km from "yesterday", or a 30 minute flight. Although Samoa is only a short distance from its closest neighbor, American Samoa, these countries lie on either side of the International Date Line. This also means that Samoa celebrates the New Year a full day earlier than American Samoa.
Oddly enough, this wasn't the first time Samoa changed its calendar. In 1892, the country did the opposite and moved east of the International Date Line. As a result, Samoa celebrated US Independence Day on July 4th twice.
Samoa has a "third gender" known as faafafine, which means "in a feminine way" and has long been recognized and accepted within Samoan culture. Genetically male, Fa'afafine lives as a female and learns the traditional duties of a Samoan woman.
Hollywood actor and former professional wrestler Dwayne "The Rock" Johnson is half Samoan. Johnson played Shiva Tau in the latest movie Fast and Furious.
Scottish author Robert Louis Stevenson is best known for Treasure Island (1881) and The Strange Case of Doctor. In Jekyll and Mr. Hyde' (1886) lived in Samoa from 1890 until his death in 1894. His house is now a museum.
Marietoa Tanumafiri II, who ruled Samoa for 45 years from 1962, was his third longest-reigning monarch in the world. He died in 2007 at the age of 94.
The flag of Samoa consists of a blue rectangle in the corners showing the Southern Cross (featured on many flags of the Southern Hemisphere) in white on a red background. White stands for purity, blue for freedom, and red for courage.
Kilikiti is an adaptation of cricket and is the national sport of Samoa. Brought to Samoa by British missionaries and navigators in the 19th century, the game features his two teams of batsmen, bowlers, and fielders, but with different bats, balls, scoring systems, and larger stumps.

The word tattoo probably comes from Samoa. The Samoan 'tatau' is centuries old and is considered a right of passage for many Samoans. The man's tattoo, known as Pe'a, covers his body from hip to knee and represents his ancestral journey from Asia to Polynesia.
Significantly more Samoans live outside Samoa than in their home country, especially in New Zealand, Australia and the United States.
A traditional Samoan house called a wale has no walls. In its simplest form, a fale is a wooden platform with poles supporting a thatched roof, surrounded by woven blinds for privacy.
In 2009, Samoa was hit by a deadly tsunami caused by an undersea earthquake. 149 people died, hundreds were injured, and extensive damage was caused.
Samoa is home to Polynesia's largest ancient structure, Premeley Hill. Built between 1100 and 1400 AD, this pyramid structure measures 65 x 60 m at the base and reaches over 12 m in height.
One of his most famous sites in Samoa is the To Sua Trench, a huge 20-meter-deep sinkhole with an underwater passage leading to the ocean.