Nepal | History, Capital, Language, Flag, Facts & Geography of Nepal
History of Nepal:
Nepal is renowned for being a highly religious nation. Small kingdoms started to form in southern Nepal around the sixth century BC. Kingdom of Shakya was one of them. Siddharta Gautama, a prince of the Shakya empire, attained great authority but later renounced his throne. He started living a holy and self-denying life. He established the Buddhist religion and came to be known as the Buddha, which is Sanskrit for "enlightened one."
Later, Nepal will join the Indian Mauryan Empire, then the Gupta Empire.
Prithvi Narayan, a native of Gorkha, united the nation in the 18th century. The region was known for a while as the Gorkha Kingdom. The Rana regime came into power in 1846. For several years, they cut off Nepal from the outside world.
Extreme Maoists began a revolution against the monarchy in 1996. The civil war lasted for ten years. The monarchy was dissolved in 2008, but the country is still in a state of upheaval since the various government parties cannot agree on how to run the country.
Information about Nepal:
| | |
| --- | --- |
| Capital | Kathmandu |
| Population | 30,964,020 (Source: 2023 worldometer) |
| Major Cities | Kathmandu, Pokhara, Lalitpur, Biratnagar, Dharan, Bharatpur, Bhaktapur, Hetauda, Butwal |
| Borders | India to the east, south and west; whereas it borders with the Tibet Autonomous Region (TAR) of the PRC to the north |
| Gross Domestic Product (GDP) | $40,828,247,302 (2022 worldometer) |
| Currency | Nepalese rupee (NPR) |
Flag of Nepal: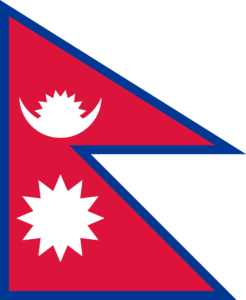 Nepal Economy Key Industries:
Nepal Major Industries: tourism, carpet, textile; small rice, jute, sugar, and oilseed mills; cigarettes, cement and brick production
Nepal Agricultural Products: rice, corn, wheat, sugarcane, root crops; milk, water buffalo meat

Nepal Natural Resources: quartz, water, timber, hydropower, scenic beauty, small deposits of lignite, copper, cobalt, iron ore
Nepal Major Exports: quartz, water, timber, hydropower, scenic beauty, small deposits of lignite, copper, cobalt, iron ore
Nepal Major Imports: gold, machinery and equipment, petroleum products, fertilizer
The Geography of Nepal:
Total Size of Nepal: 331,690 km² (source: wikipedia)
Geographical Low Point of Nepal: Kanchan Kalan 70 m

Geographical High Point of Nepal: Mount Everest 8,850 m
Climate of Nepal: varies from cool summers and severe winters in north to subtropical summers and mild winters in south

General Terrain of Nepal: Tarai or flat river plain of the Ganges in south, central hill region, rugged Himalayas in north
World Region or Continent of Nepal:  Asia

Geographical Coordinates: 28 00 N, 84 00 E
The People of  Nepal & Culture
Nepal Government Type: parliamentary democracy and constitutional monarchy
Nepal Nationality: Nepalese (singular and plural)
Nepal National Holiday: Birthday of King GYANENDRA, 7 July (1946)
Nepal Independence: 1768 (unified by Prithvi Narayan Shah)
Nepal National Symbol: rhododendron blossom
Nepal National Anthem or Song: Sayaun Thunga Phool Ka (Hundreds of Flowers)
Nepal Languages Spoken: Nepali 47.8%, Maithali 12.1%, Bhojpuri 7.4%, Tharu (Dagaura/Rana) 5.8%, Tamang 5.1%, Newar 3.6%, Magar 3.3%, Awadhi 2.4%, other 10%, unspecified 2.5% (2001 census)

Nepal Religions: Hindu 80.6%, Buddhist 10.7%, Muslim 4.2%, Kirant 3.6%, other 0.9% (2001 census)
Interesting Facts about Nepal:
Nepal is where the Lord Buddha was born.
Nepal is home to eight of the top ten mountains on the planet.
In Nepal's incredible geography, you may find the tallest lake, highest peak, deepest lake, highest valley, deepest gorge, and many more.
Nepal has the most number of sites that are designated as world heritage sites.
The only triangular flag in existence is that of Nepal. Momo is the most popular quick meal. A pastry made from flour that can be filled with chicken, pig, or veggies is called a momo.
Over 80% of the people of Nepal are Hindu.
There are many diverse languages and cultures in Nepal. Nepal has about 80 distinct ethnic groupings and over 120 different languages.
Since the cow is regarded as the embodiment of the goddess Laxmi, it is illegal to kill one in Nepal.
The only living goddess, Kumari, is from Nepal.
UNESCO has identified ten locations in Nepal as World Heritage Sites. In Kathmandu, the nation of Nepal's capital city, you may find seven of the ten historical sites. UNESCO divided heritage sites into numerous categories. They are the religious, cultural, and natural heritages.
Nepal has its own calendar, known as the Bikram Sambat. The Bikram Sambat calendar is 56.7 years older than the Gregorian calendar.
There are a few extreme places in Nepal. One of these is Tilicho Lake, the world's highest lake at 4,919 meters above sea level. The most tourists are drawn to this area.
Lukla Airport is the world's most dangerous airport. From the capital city, the flight lasts between 40 and 50 minutes. Lukla Airport, also known as Tenzing-Hilary Airport, serves as the entry to Mount Everest.
The cow is Nepal's national animal. Hindus see cows as sacred animals. To kill cows for meat is against the law in Nepal. This is true because the vast majority of people in Nepal practice Hinduism.
The official public holiday for the week in the majority of countries is Sunday; in Nepal, it is Saturday. Both the government and the majority of private enterprises are open six days a week here.
Namaste, sometimes referred to as Namaskar, is the word for "hello" in Nepalese. "I bow to you" is said as a form of greeting.
Handshakes are not particularly common in Nepal. Namaste or Tashidele (in Sherpa Communities) is a greeting used by Nepalese people when they bow, place their palms together, and pronounce it aloud. Namaste means "I salute the God in you" in its direct translation.
Mount Everest is referred to as Chomolungma in Tibetan, which means "Holy Mother," and Sagarmatha in Nepali, which means "lady of the sky."
The red panda, an endangered species, is found only in Nepal. The name panda is supposed to have been influenced by the Nepali word "ponya," which describes an animal that eats bamboo or other vegetation.
Nepali passports are among the weakest in use today. There are just 38 locations where visitors from this country can enter without a visa or with an instant visa.