Macau | History, Capital, Language, Flag, Facts & Geography of Macau
History of Macau:
Similar to Hong Kong, Macau is now regarded as a special administrative territory of China. Macau has a functioning government with a court system, police, and currency. China is in charge of foreign policy and defense.
Portuguese traders started using Macau as a staging point for commerce with China when they first arrived there in 1516. The oldest European settlement in the Far East is located there. Portugal declared Macau to be independent from China in 1849. However, it wasn't until 1887 that China ratified the Protocol of Lisbon, which allowed Portugal to conquer Macau.
Macau was returned to China as a special administrative territory in 1999.
Information about Macau:
| | |
| --- | --- |
| Capital | |
| Population | 704,149 (Source: 2023 worldometer) |
| Major Cities | South China Sea in the east and south, and neighbours the Guangdong city of Zhuhai to the west and north |
| Borders | Macau, Cheoc Ca Chün, Taipa, Coloane Village, Taipa Village and A-Ma Cultural Village |
| Gross Domestic Product (GDP) | $21,979,475,561  (2022 worldometer) |
| Currency | pataca (MOP) |
Flag of Macau: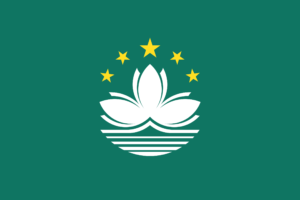 Macau Economy Key Industries:
Macau Major Industries: tourism, gambling, clothing, textiles, electronics, footwear, toys
Macau Agricultural Products: only 2% of land area is cultivated, mainly by vegetable growers; fishing, mostly for crustaceans, is important; some of the catch is exported to Hong Kong

Macau Natural Resources: NEGL
Macau Major Exports: clothing, textiles, footwear, toys, electronics, machinery and parts
Macau Major Imports: raw materials and semi-manufactured goods, consumer goods (foodstuffs, beverages, tobacco), capital goods, mineral fuels and oils
The Geography of Macau:
Total Size of Macau: 331,690 km² (source: wikipedia)
Geographical Low Point of Macau: South China Sea 0 m

Geographical High Point of Macau: Coloane Alto 172.4 m
Climate of Macau: subtropical; marine with cool winters, warm summers

General Terrain of Macau: generally flat
World Region or Continent of Macau:  Asia

Geographical Coordinates: 22 10 N, 113 33 E
The People of  Macau & Culture
Macau Government Type: limited democracy
Macau Nationality: Chinese
Macau National Holiday: National Day (Anniversary of the Founding of the People's Republic of China), 1 October (1949); note – 20 December 1999 is celebrated as Macau Special Administrative Region Establishment Day
Macau Independence: none (special administrative region of China)
Macau National Symbol: lotus blossom
Macau National Anthem or Song: note:?as a Special Administrative Region of China, Yiyonggjun Jinxingqu is the official anthem (see China)
Macau Languages Spoken: Cantonese 87.9%, Hokkien 4.4%, Mandarin 1.6%, other Chinese dialects 3.1%, other 3% (2001 census)
Macau Religions: Buddhist 50%, Roman Catholic 15%, none and other 35% (1997 est.)
Interesting Facts about Macau:
On China's southern coast, in Eastern Asia, sits Macau (sometimes spelled Macao), a city-state and Special Administrative Region of China.
In addition to the islands of Taipa and Coloane, which are connected by a section of reclaimed land known as Cotai, Macau is situated on a small peninsula of mainland China.
The "one country, two systems" concept is used to manage Macau, where China permits Macau to have its own government, local currency, and jurisdiction over its own legal and financial matters, including legal gaming.
As a result of its massive casino and gambling industries, Macau has been referred to as "Asia's Monte Carlo," "Las Vegas of the East," and "Vegas of China."
Casino gaming is only permitted in Macau in China.
In terms of gambling income, Macau had long eclipsed Las Vegas, but due to the epidemic, Macau lost ground to Las Vegas in 2020.
The world's most densely inhabited territory is Macau, which has 20,556 people per square kilometer of land.
The first and final colony of Europe in Asia was Macau. In 1557, it was first leased to Portugal; it was made a complete colony in 1887; it was then given back to China in 1999.
The Macau flag features a lotus blossom over a white bridge and water on a green background. An arc of five golden, five-pointed stars may be seen above. The three petals of the lotus, which represents Macau's peninsula and two islands, are its official insignia. The five stars correspond to those on the Chinese flag.
Macau has the third-highest life expectancy in the world, with a birth age of 84.1 years.
With only 1.2 births per woman, Macau has the fifth-lowest fertility rate in the world.
The longest sea bridge in the world connects Macau to Hong Kong. The 55-kilometer Hong Kong-Zhuhai-Macau Bridge has a 6.7-kilometer undersea tunnel that allows ships to pass.
The Hong Kong, Zhuhai, and Macau Bridge spans a vast ocean. According to the most recent data available, Macau was the fourth most visited city in the world in 2019 with 20,637,100 tourists.
The UNESCO has designated Macau's Historic Center as a World Heritage Site. The historic streets and fusion of eastern and western architecture in the old city center are well known.
One of the most well-known sights in Macau are the ruins of the Church of St. Paul. The church was constructed between 1602 and 1640, and today all that is left are the stairway and facade.