Hong Kong | History, Capital, Language, Flag, Facts & Geography of Hong Kong
History of Hong Kong:
The Han Chinese dynasty first colonized the region that is now Hong Kong in the seventh century. Jorge Alvares, a Portuguese explorer, arrived in Hong Kong in 1513. Soon after, trade between Portugal and China began. The trading eventually ceased as a result of battles between the Chinese and Portuguese, though. Later, in 1699, the British East India Company arrived, and trade with Britain began.
In 1842, at the conclusion of the first Opium war, Hong Kong came under British rule. The town developed into a significant port for trade with southern China. Many people migrated to Hong Kong when the communists took control of China in order to preserve their freedoms. In July 1997, China reclaimed control of Hong Kong after more than 150 years under British rule. Hong Kong still has its pre-existing domestic political, economic, and legal structures in place despite being a part of China presently.
Information about Hong Kong:
| | |
| --- | --- |
| Capital | |
| Population | 7,491,609 (Source: 2023 worldometer) |
| Major Cities | Kowloon, Sha Tin, Kowloon City, Sham Shui Po, Tin Shui Wai, Central District, Tsing Yi Town |
| Borders | South China Sea to the south, west, and east, and shares a land border with mainland China to the north |
| Gross Domestic Product (GDP) | $359,839,000,000 (2022 worldometer) |
| Currency | Hong Kong dollar (HKD) |
Flag of Hong Kong: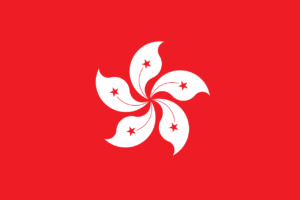 Hong Kong Economy Key Industries:
Hong Kong Major Industries: textiles, clothing, tourism, banking, shipping, electronics, plastics, toys, watches, clocks
Hong Kong Agricultural Products: bananas
Hong Kong Natural Resources: arable 
Hong Kong Major Exports: sugar
Hong Kong Major Imports: machinery 
The Geography of Hong Kong:
Total Size of Hong Kong: 331,690 km² (source: wikipedia)
Geographical Low Point of Hong Kong: South China Sea 0 m

Geographical High Point of Hong Kong: Tai Mo Shan 958 m
Climate of Hong Kong: subtropical monsoon; cool and humid in winter, hot and rainy from spring through summer, warm and sunny in fall
General Terrain of Hong Kong: hilly to mountainous with steep slopes; lowlands in north
World Region or Continent of Hong Kong:  Asia

Geographical Coordinates: 22 15 N, 114 10 E
The People of  Hong Kong & Culture
Hong Kong Government Type: limited democracy
Hong Kong Nationality: Chinese/Hong Konger
Hong Kong National Holiday:  National Day (Anniversary of the Founding of the People's Republic of China), 1 October (1949); note – 1 July 1997 is celebrated as Hong Kong Special Administrative Region Establishment Day
Hong Kong Independence: none (special administrative region of China)
Hong Kong National Symbol: orchid tree flower
Hong Kong National Anthem or Song: note:?as a Special Administrative Region of China, Yiyonggjun Jinxingqu is the official anthem (see China)
Hong Kong Languages Spoken: Chinese (Cantonese), English; both are official
Hong Kong Religions: eclectic mixture of local religions 90%, Christian 10%
Interesting Facts about Hong Kong:
The special administrative region of China known as Hong Kong has a distinctive political and economic structure known as "One Country, Two Systems."
Chinese (Cantonese) and English are both recognized as official languages of Hong Kong. In business, government, and education, English is frequently used.
One of the major financial hubs in the world, Hong Kong is renowned for its thriving market economy.
Hong Kong's official currency is the Hong Kong Dollar (HKD).
Hong Kong's Victoria Harbour is a well-known natural harbor that doubles as a significant transportation hub and tourist destination.
The International Commerce Centre (ICC) and the iconic Bank of China Tower are just two of the eye-catching buildings that make up Hong Kong's famed skyline.
A well-liked tourist destination in Hong Kong is the Peak Tram, which takes guests to the summit of Victoria Peak and provides breathtaking panoramic views of the city.
With a diverse selection of international cuisines and regional specialties like dim sum and Cantonese roast goose, Hong Kong boasts a thriving culinary scene.
One of Hong Kong's most well-known sights is the Big Buddha, commonly referred to as Tian Tan Buddha, a substantial bronze statue that is situated on Lantau Island.
Hong Kong is well known for its vibrant street markets, like the Ladies' Market and Temple Street Night Market, where tourists may discover a variety of things, including clothing, accessories, gadgets, and street food.
The Victoria Harbour skyline is illuminated by the nightly multimedia light and sound performance known as "The Symphony of Lights," which creates a stunning display.
The Disneyland Resort is located in Hong Kong and draws tourists of all ages with its wonderful experiences, themed attractions, and entertainment.
One of the busiest airports in the world, Hong Kong International Airport acts as a significant transportation hub for Asia and beyond.
Buses, trams, and ferries are all part of Hong Kong's extensive and effective public transportation network, which also includes the Mass Transit Railway (MTR).
A well-known religious and cultural destination in Hong Kong is the Wong Tai Sin Temple, which is devoted to the Chinese god Wong Tai Sin.
Country parks and nature reserves abound in Hong Kong, offering chances for outdoor pursuits like biking, hiking, and birdwatching.
The Hong Kong Film Awards, also known as the "Oscars of the East," honor outstanding work in the city's flourishing film industry, which has given rise to numerous well-known directors and performers.
In Hong Kong, races for dragon boats are a yearly event that take place during the Dragon Boat Festival.
Chinese, British, and other Asian civilizations have all had an impact on the history and culture of Hong Kong.
An annual rugby competition known as the Hong Kong Sevens draws teams and spectators from all around the world.