Bhutan | History, Capital, Language, Flag, Facts & Geography of Bhutan
History of Bhutan:
Religion has had a major influence on Bhutan's history. Bhutan's written history dates back to the ninth century, when Tibetan monks fled unrest in their home country and settled there. Throughout much of history, Bhutan's many religious institutions have been a significant source of influence. In the 12th century, the Drukpa Kagyupa school of Buddhism was founded. In Bhutan, it is still the predominant branch of Buddhism.
Up until Ngawana Namgyal assumed control in 1616, a variety of religious schools continued to rule Bhutan. He assumed the title of shabdrung, or ruler. At this time, the nation was most harmonious and was governed by a single body of law. It took 200 years after Ngawana's passing for the next legendary leader to come to power.
Ugyen Wangchuck succeeded him as the next great king in 1885. In 1907, he changed into a Dragon Kin.
Following his passing, internal strife and civil conflict reduced the shabdrung's authority for the following 200 years until Ugyen Wangchuck was able to solidify power and develop deeper links with the British in India in 1885. Diplomatic relations with India were established by Ugyen and later by his son Jigme. Bhutan signed a Treaty of Peace and Friendship with India in 1949 after gaining independence in 1947.
Information about Bhutan:
| | |
| --- | --- |
| Capital | Thimphu |
| Population | 788,399 (Source: 2023 worldometer) |
| Major Cities | Thimphu, Wangdue Phodrang, Jakar, Paro, Trongsa, Phuentsholing, Punakha, Nganglam, Gelephu |
| Borders | Indian states of Sikkim in the west, West Bengal and Assam in the south, and Arunachal Pradesh in the east, and it shares a border with China (Xizang – Tibet Autonomous Region) in the north |
| Gross Domestic Product (GDP) | $2,325,185,521 (2022 worldometer) |
| Currency | ngultrum (BTN); Indian rupee (INR) |
Flag of Bhutan: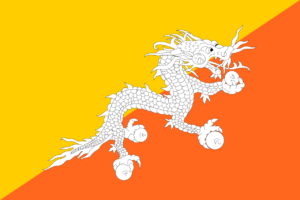 Bhutan Economy Key Industries:
Bhutan Major Industries: cement, wood products, processed fruits, alcoholic beverages, calcium carbide

Bhutan Agricultural Products: rice, corn, root crops, citrus, foodgrains; dairy products, eggs
Bhutan Natural Resources: timber, hydropower, gypsum, calcium carbonate
Bhutan Major Exports: electricity (to India), cardamom, gypsum, timber, handicrafts, cement, fruit, precious stones, spices
Bhutan Major Imports: fuel and lubricants, grain, machinery and parts, vehicles, fabrics, rice

The Geography of Bhutan:
Total Size of Bhutan: 331,690 km² (source: wikipedia)
Geographical Low Point of Bhutan: Drangme Chhu 97 m

Geographical High Point of Bhutan: Kula Kangri 7,553 m
Climate of Bhutan: varies; tropical in southern plains; cool winters and hot summers in central valleys; severe winters and cool summers in Himalayas

General Terrain of Bhutan: mostly mountainous with some fertile valleys and savanna

World Region or Continent of Bhutan:  Asia

Geographical Coordinates: 27 30 N, 90 30 E
The People of  Bhutan & Culture
Bhutan Government Type: monarchy; special treaty relationship with India
Bhutan Nationality: Bhutanese (singular and plural)
Bhutan National Holiday: National Day (Ugyen WANGCHUCK became first hereditary king), 17 December (1907)
Bhutan Independence: 8 August 1949 (from India)
Bhutan National Symbol: thunder dragon known as Druk
Bhutan National Anthem or Song: Druk tsendhen (The Thunder Dragon Kingdom)
Bhutan Languages Spoken: Dzongkha (official), Bhotes speak various Tibetan dialects, Nepalese speak various Nepalese dialects
Bhutan Religions: Lamaistic Buddhist 75%, Indian- and Nepalese-influenced Hinduism 25%

Interesting Facts about Bhutan:
Bhutan is the only nation in the world to have a negative carbon footprint because it absorbs more carbon dioxide than it emits.
Up until 1974, Bhutan was cut off from the rest of the world.
Bhutan does not have traffic lights.
Plastic is not used at all in Bhutan.
The population of Bhutan is about 700,000.
Due to the fact that there are only 8 licensed pilots working at Paro, it is known as the most hazardous airport in the world to land at.
In Bhutan, smoking is not permitted in public places.
One unique fact about Bhutan is that on New Year's Day, everyone there gains a legal year of age. This indicates that nobody observes their birthdays.
In Bhutan, it is illegal to hunt or kill any animals or birds.
In 1999, Bhutan became the final nation to introduce televisions.
All Bhutanese nationals have access to free healthcare and education.
Bhutan decriminalized homosexuality in 2019.
In several myths and stories from Bhutan, archery plays a significant role. Bhutan also fields an Olympic archery squad.
In Bhutan, the Yeti is still a popular myth.
Families are run by women, who also oversee the family businesses. Matriarchy is indicated by the fact that they even inherit property, and the guy later moves into his wife's home.
Polygamy is legal in Bhutan. For instance, Jigme Singye Wangchuck, the fourth monarch of Bhutan, is wed to four sisters.
The national attire, Gho for men and Kira for women, is worn by Bhutanese people at formal events including weddings, government buildings, and schools.
The tallest peak in the world that has never been scaled is located in Bhutan.
A small nation called the Kingdom of Bhutan is encircled by the enormous nations of China and India.
a safe nation with a low crime rate because of the people's spiritual values.