Bahrain | History, Capital, Language, Flag, Facts & Geography of Bahrain
History of Bahrain:
One of the world's ancient civilizations can be found in Bahrain. For about 1000 years beginning in 3000 BC, the Dilmun civilization served as a hub for trade between the Indus Valley (India) and Ancient Mesopotamia. In 2005, UNESCO designated Qal'at al-Bahrain, the former capital of the Dilmun, as a World Heritage Site.
Later, the Assyrians and then the Persian Empire invaded Bahrain. The island was dubbed Tylos by Alexander the Great and the Greeks, who arrived after them. Over the course of the following few hundreds of years, the island was governed by numerous Arab and Mediterranean nations.
Bahrain was taken from Persia in 1783 by the Al Khalifa family, a member of the Bani Utbah tribe. Since then, they have dominated the island. Bahrain became a British Protectorate in the 1830s. This implied that they were not only under British protection but also regarded as an ally. The major purpose of this was to defend Bahrain from Ottoman Turkey. The British government made the decision to terminate its agreements in the Persian Gulf in 1968. Bahrain attained complete independence in 1971.
Information about Bahrain:
| | |
| --- | --- |
| Capital | Manama |
| Population | 1,487,994 (Source: 2023 worldometer) |
| Major Cities | Manama (capital), Muharraq, Riffa, Isa Town, Madinat Hamad, Sitra, Jidhafs, Al Hidd, Budaiya |
| Borders | Maritime borders with Iran, Qatar, and Saudi Arabia |
| Gross Domestic Product (GDP) | $44,390,820,479 (2022 worldometer) |
| Currency | Bahraini dinar (BHD) |
Flag of Bahrain: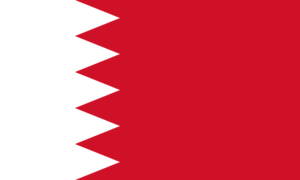 Bahrain Economy Key Industries:
Bahrain Major Industries: petroleum processing and refining, aluminum smelting, iron pelletization, fertilizers, offshore banking, ship repairing, tourism
Bahrain Agricultural Products: fruit, vegetables; poultry, dairy products; shrimp, fish
Bahrain Natural Resources: oil, associated and nonassociated natural gas, fish, pearls
Bahrain Major Exports: petroleum and petroleum products, aluminum, textiles
Bahrain Major Imports: crude oil, machinery, chemicals
The Geography of Bahrain:
Total Size of Bahrain: 760 km² (source: wikipedia)
Geographical Low Point of Bahrain: Persian Gulf 0 m

Geographical High Point of Bahrain: Jabal ad Dukhan 122 m
Climate of Bahrain: arid; mild, pleasant winters; very hot, humid summers
General Terrain of Bahrain: mostly low desert plain rising gently to low central escarpment
World Region or Continent of Bahrain: Middle East

Geographical Coordinates: 26 00 N, 50 33 E
The People of  Bahrain & Culture
Bahrain Government Type: constitutional hereditary monarchy
Bahrain Nationality: Bahraini(s)
Bahrain National Holiday: National Day, 16 December (1971); note – 15 August 1971 is the date of independence from the UK, 16 December 1971 is the date of independence from British protection
Bahrain Independence: 15 August 1971 (from UK)
Bahrain National Symbol: 
Bahrain National Anthem or Song: Bahrainona (Our Bahrain)
Bahrain Languages Spoken: Arabic, English, Farsi, Urdu
Bahrain Religions: Muslim (Shi'a and Sunni) 81.2%, Christian 9%, other 9.8% (2001 census)
Interesting Facts about Bahrain:
Bahrain's flag has a white band in the center that is divided from the red portions by five triangles that resemble a saw. The five triangles here stand for the five pillars of Islam.
33 islands make up the archipelago of Bahrain, which is situated in the Persian Gulf in the Middle East.
The Arabic name Bahrain translates to "two seas" in reference to the two oceans that round the nation.
Due to its long history of pearl diving and trading, Bahrain is referred to as the "Pearl of the Gulf".
With a total area of about 765.3 square kilometers, Bahrain is the smallest nation in the Middle East.
Bahrain has one of the densest populations in the world, with a total of 1.6 million people.
Bahrainis speak Arabic as their native tongue, however many of them are also quite proficient in English.
The cost of medical care for Bahraini nationals is nothing.
Bahrain is a constitutional monarchy with an elected parliament and a king as head of state.
The world's lowest freshwater supply is in Bahrain.
With over 70% of the nation's income coming from oil and gas, Bahrain is also a significant producer of both of these commodities. Additionally, Bahrain is well-known for its traditional basketry, weaving, and pottery.
Bahrain's cuisine is varied and has Arabic, Persian, and Indian influences.
The Al-Fateh Mosque, one of the biggest mosques in the world with a capacity of over 7,000, is located in Bahrain.
The Bahrain National Museum, which presents the history and culture of the nation, is also located in Bahrain.
Bahrain has a hot and muggy climate, with summertime highs of up to 50°C.
Al Jazayer Beach and Marassi Beach are only two of Bahrain's stunning beaches.
With a diversity of cultures and religions, Bahrain is a tolerant and modern society.
Modern malls and conventional souks in Bahrain, which sell everything from designer brands to regional handicrafts, are popular shopping destinations.
With convenient access to nations like Saudi Arabia, Qatar, and the United Arab Emirates, Bahrain serves as a gateway to the rest of the Middle East.